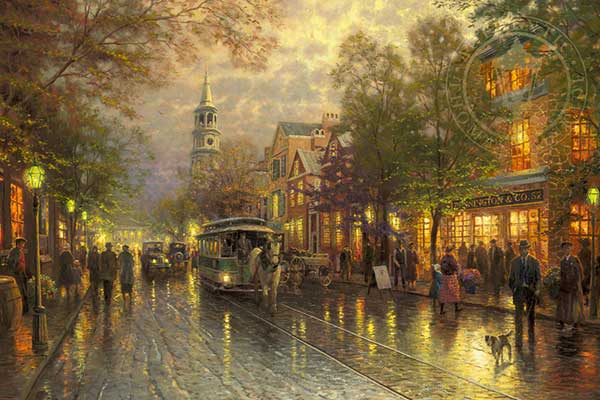 If gray skies, thunderclaps, and lightning accents make you want to snuggle and snooze, bring those vibes home with rainy day paintings for relaxing rooms. Add a little color and a lot of cozy with the cool spring showers, warm glowing windows, and stormy rain-wet streets of Thomas Kinkade art for your home.
Mood Soothing Italian & French Rainy Day Art
A stormy day isn't always welcome on a long-awaited vacation. What if you could enjoy both the mood of a sudden downpour and the beauty of your favorite European destination from the comfort of your own home?
Our Venice Canal painting gives you a view of Italy as seen through the drips and drops on a canal hotel window. Rainy Dusk, Paris, transports us to a stormy scene on the verge of the night in the city of lights as warmth seems to pour down on pedestrians from shopfronts and streetlamps. For a brighter, happier Paris wet weather scene, check out the vibrant flags and glistening streets of Mickey & Minnie In Paris.
Hang Rainy Day Paintings With Umbrellas To Bring Calm To Your Space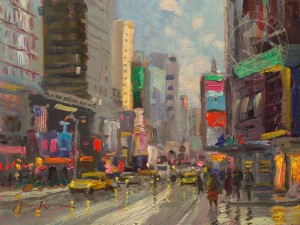 We also carry both east and west coast artwork of U.S. cities during a rainstorm. The city seems to suddenly blossom with umbrellas when the rain starts to fall. Besides traffic signals and illuminated advertisements, umbrellas bring an exciting array of colors. What a beautiful accompaniment to the pitter-patter of raindrops.
For cityscape paintings featuring umbrellas, check out Times Square, set in New York, Pike Place Market, Seattle, and Jackson Street, Cape May, set in New Jersey.
Calming Coastal Showers – Paintings Of California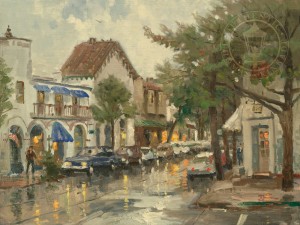 Many people move to California to enjoy the sunshine and coastlines, but there's nothing like the misty streets and lush greenery of Cali streets on a rainy day. You can imagine Rainy Day in Carmel as the view from a corner coffee shop as you sip a steamy brew. You can almost hear the splish-splash of busy foot and car traffic in The Heart of San Francisco. The green of the trees and the color of the flowers seem to intensify as the people take it easy in Carmel, Ocean Avenue on a Rainy Afternoon.
Create Relaxing Rooms With Fine Art
We make it easier for you to create the moods you want in your spaces. Trying to find the perfect rainy day paintings for your reading nook, guest room, or meditation space? Visit a Thomas Kinkade Art Gallery in Monterey, Carmel, or Placerville, CA today.