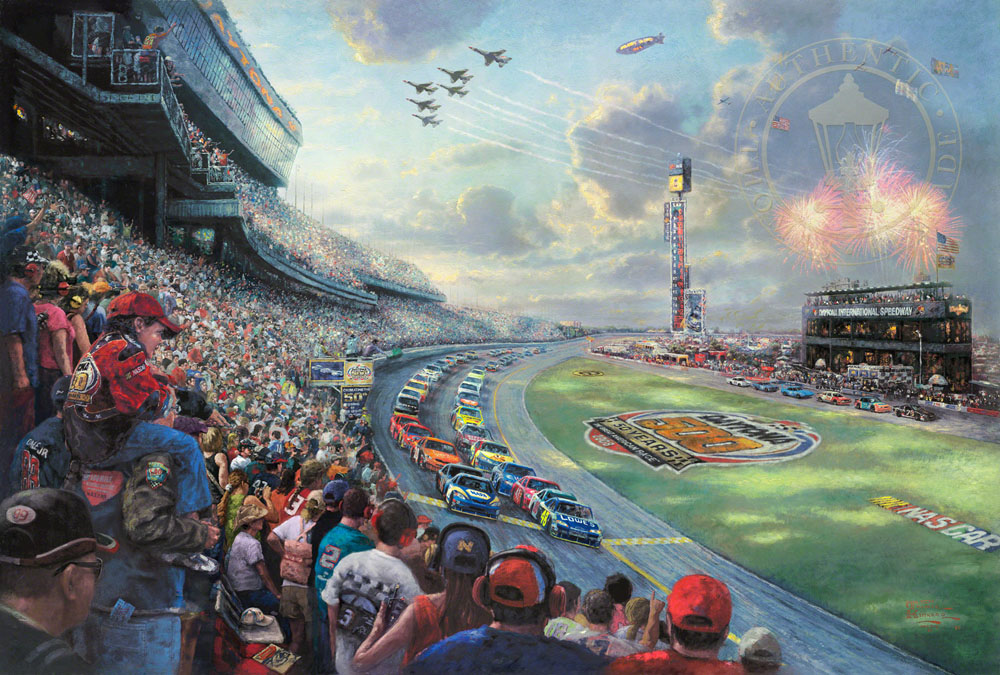 Experience the thrill of NASCAR® or the Indianapolis Motor Speedway® right in your own home with a Thomas Kinkade painting from one of our galleries. These vibrant, detailed paintings make you feel as though you are part of the crowd, rooting for your favorite race car drivers.
The Excitement of the Speedway
Thomas Kinkade was a huge fan of racing and some of his pieces, such as Indy® Excitement and Indianapolis Motor Speedway® 100th Anniversary Study, were sketched right on the grounds of the track. In A Century of Racing, an old-time race car races against a sleek, modern competitor. At our gallery, you'll find a variety of race car paintings, including masterpieces such as these:
Quality Fine Art Paintings
Our Thomas Kinkade paintings are created on high-quality canvas and hand stretched to ensure a work of art that is designed to last through generations. These paintings would look great in any home or office. Perhaps you're looking for the perfect gift for the race car fan in your life? Consider buying a painting from our Thomas Kinkade Race Car collection. Not only do these paintings make wonderful gifts, but they make nice heirlooms as well.
We're here to help
When you shop at one of our galleries, our knowledgeable art consultants will help you with everything from finding the right painting, to choosing the right frame, as well as helping you find the right lighting to showcase your new piece.
Visit One Of Our Galleries
Come and enjoy the race car experience with a painting from one of our galleries. With a variety of paintings to choose from, you're sure to find something that brings the excitement of race car driving right into your own home.