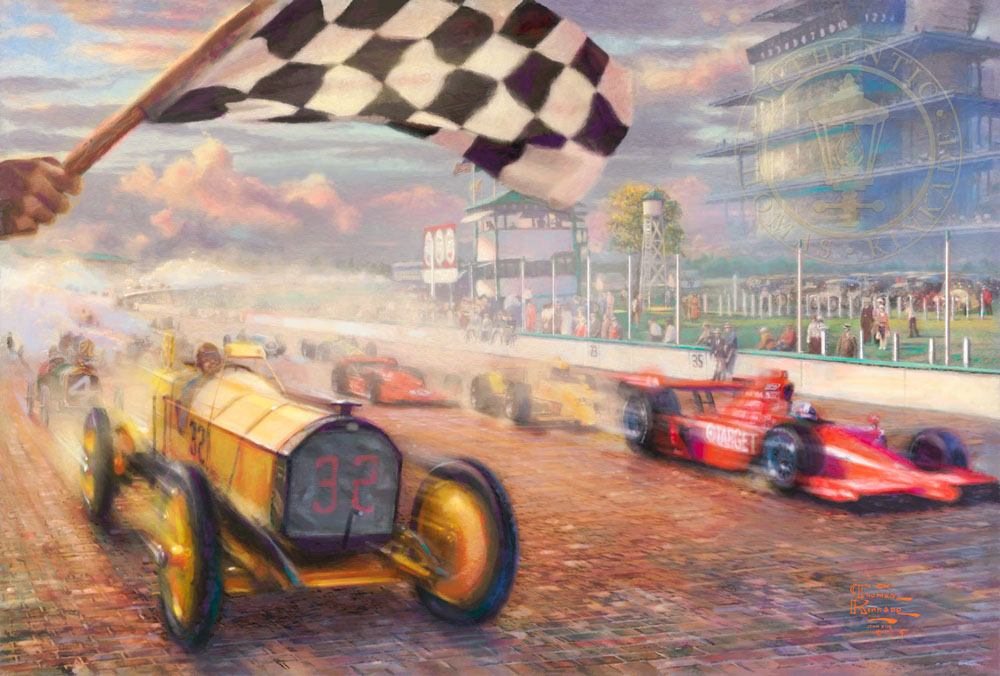 Art Notes
As I painted my tribute to this amazing race, I was moved by the imprint of time on this event. I wondered at the thrill of viewing the race at track level where each of these amazing warriors would engage in the challenge of winning this epic race. I paid tribute to a century of competitors with yesteryears car racing against today's elegant machines. Along the track, the smoke and dust reminiscent of 100 years of racing billows as cars round the oval towards the renowned-checkered flag. Adjacent to the track, fans spanning generations and attired in appropriate garb, gather collectively willing their champions to victory all the while feeling the sonic impact of each lap and wincing at the roar of passing cars. In the horizon, sunlight gently adorns the clouds as sun approvingly sets on this year's coronation of Indy's latest champion…what a legacy is this greatest of races. Kudos, Indy for 100 years of thrills slowly and annually acquiescing to the storied checkered flag!
Copyright: Trademarks of Brickyard Trademarks, Inc. are used under license.
Title A Century of Racing!
Painted 2011
Published 2011
Style Chiaroscuro
Classification Thomas Kinkade Original
Subject Location Indianapolis, Indiana, USA