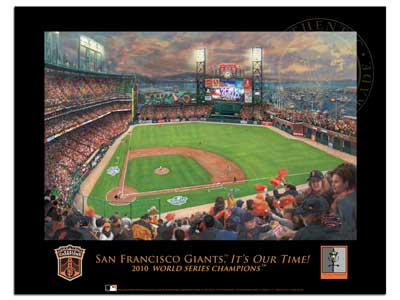 Stop by one of our Thomas Kinkade Signature galleries in the Monterey Bay area and find the perfect fine art poster for each art lover in your life. Thomas Kinkade created some of the most stunning moments ever captured on canvas. Our professional Art Consultants will help you find just the right poster for each person on your shopping list.
Thomas Kinkade Archival Posters and prints are made with heavyweight archival papers sized to fit ready-made frames found at your favorite frame shop and craft store.
Kinkade Poster Gifts
Each Thomas Kinkade poster is printed with the highest quality ink, on the finest paper, ensuring that the beauty of each piece is completely captured for your enjoyment for years to come. Framing any one of these fine art posters would make an ideal gift to display in the home or office of someone special.
Our Art Consultants will help you find an inspirational poster to fit any occasion. Whether you are looking for Christmas gift posters, a gift for a college graduate or new couple, something for Mother's Day, or calming posters to add to the serenity of your home, we have just the piece for you.
Share Kinkade's Wonderful Talent
Thomas Kinkade was a truly extraordinary artist. His amazing paintings have been admired by art enthusiasts for years. Also known as 'The Painter of Light™ ', he captures his subjects with not only visual beauty but also with powerful emotional connections. When you display one of these wall posters in your home, you bring that emotion with it for all to enjoy.
Fine Art Posters
Find the finest of gifts for this holiday season at our Monterey Bay area galleries. Our Art Consultants will offer the best in customer service and help ensure that this year's gift giving will be memorable and meaningful. Stop by today and experience these beautiful posters for yourself.
Available In These Titles