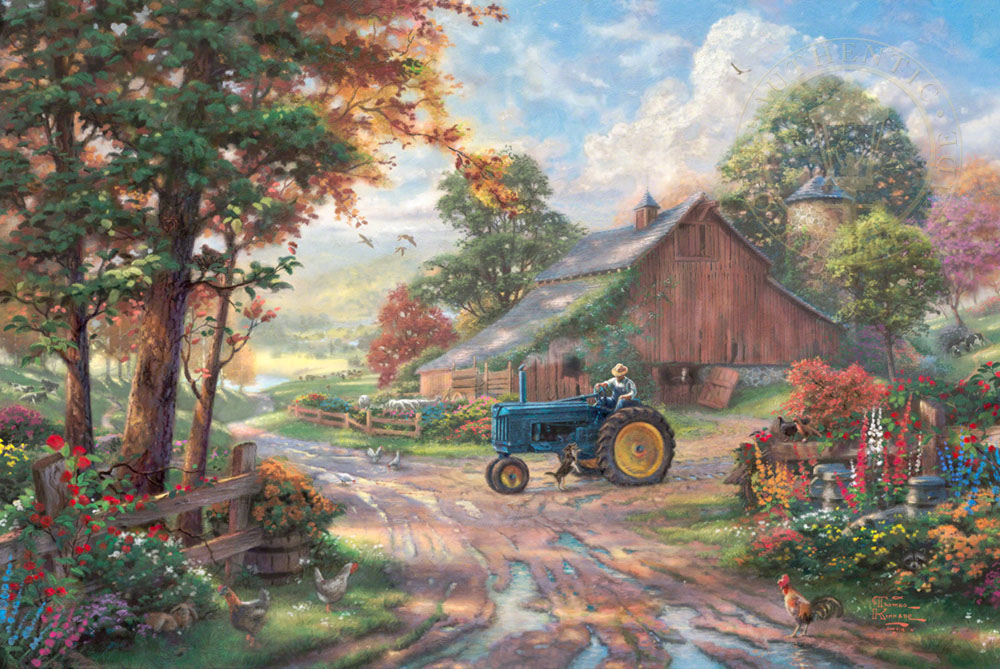 At Thomas Kinkade Carmel, Monterey and Placerville, we are your quality source for paintings to match farmhouse decor. With a wide selection of canvas art depicting simpler times, scenes of nature and the warmth of country charm, we have just the wall art piece or collection you've been hunting for.
Decorating With Farmhouse Art
Farmhouse style decorating marries rustic pieces like distressed wood and washtubs with the bright whitewashes and pastels of cottage life. At our California art galleries, we have farmhouse paintings and other wall art to accent and match your home's decor. Just some of the floral, outdoor, and country farmhouse paintings you may consider include:
Traditions, Heritage & Simpler Times
Horses graze and you can almost hear the waterwheel rhythmically turning in the background of Simpler Times II. What says farm more than a little blue tractor in front of a big red barn? Complete with chickens strutting down the lane, Summer's Heritage gives you a glimpse into this scene. Fishing boats, faithful hounds, and farmers hard at work are waiting in our galleries to be discovered.
Country Art To Accent Your Space
From meadows that remind us of our early pioneers to vases full of colorful blossoms, we have wall decor to match your country farmhouse style. Country Living has your deer and ducks, not to mention the perfect climbing tree. The blooms in A Perfect Yellow Rose seem to blossom right off the canvas to brighten any room you put them in.
Modern Farmhouse Decor In California
Whether you live among fields or freeways, you can bring a touch of the farm home with paintings to match your farmhouse decor from Thomas Kinkade Carmel, Monterey, and Placerville. We invite you to stop by one of our California Thomas Kinkade Galleries and see this Limited Edition artwork in person. Choose the piece that speaks to you and your unique home decorating style today.