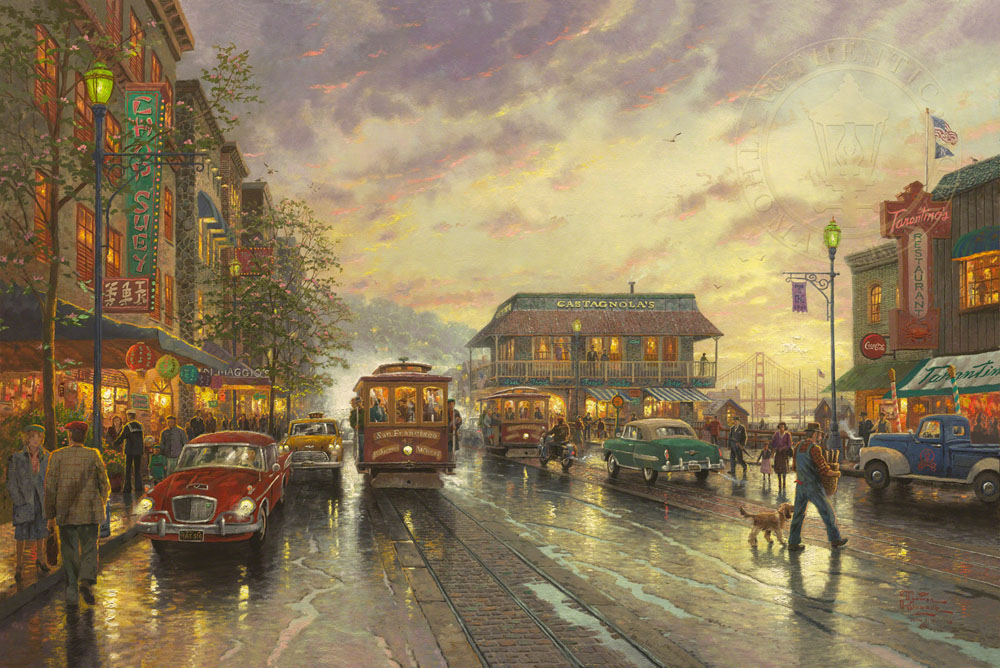 Anyone who has visited San Francisco knows it holds a unique charm. Our galleries are pleased to introduce you to San Francisco paintings sure to capture your heart the same way San Francisco has.
Iconic Scenes
Beautiful images of iconic San Francisco landmarks, including San Francisco Bridge, adorn these limited edition canvases. In true painter of lights fashion, the paintings catch the magic of San Francisco. Some of our favorite San Francisco scenes include:
Heart and Home
If San Francisco has stolen your heart, bring it home with lovely Limited Edition Canvas wall art. Create your own private getaway by choosing your favorite painting to add to your home decor. Scenes of trolley cars and typical San Francisco bustle invoke memories of the sounds and smells distinct to San Francisco.
Fine art such as these San Francisco paintings add elegance and beauty to any home or office environment. Paintings like those available from one of our galleries can create a quick respite from an otherwise busy, perhaps stressful day.
Paintings That Tell Stories
Each fine art painting tells a story. One can imagine being amidst the crowd in old Chinatown in Kinkade's paintings such as Chinatown, or San Francisco: A View Down California Street from Nob Hill. Trolleys fill the streets in San Francisco, and on Kinkade canvases, filling our ears with their trademark clatter and the clang of their bells.
See Them In Our Galleries
You can find these wonderful Limited Edition Canvas paintings of San Francisco in one of our galleries. We are privileged to offer Thomas Kinkade paintings of San Francisco, as well as many other iconic images created by this highly collected artist. Contact us or stop by today to experience these fine art pieces in person. Take a moment to step into a beautiful recollection, or to make a new memory.