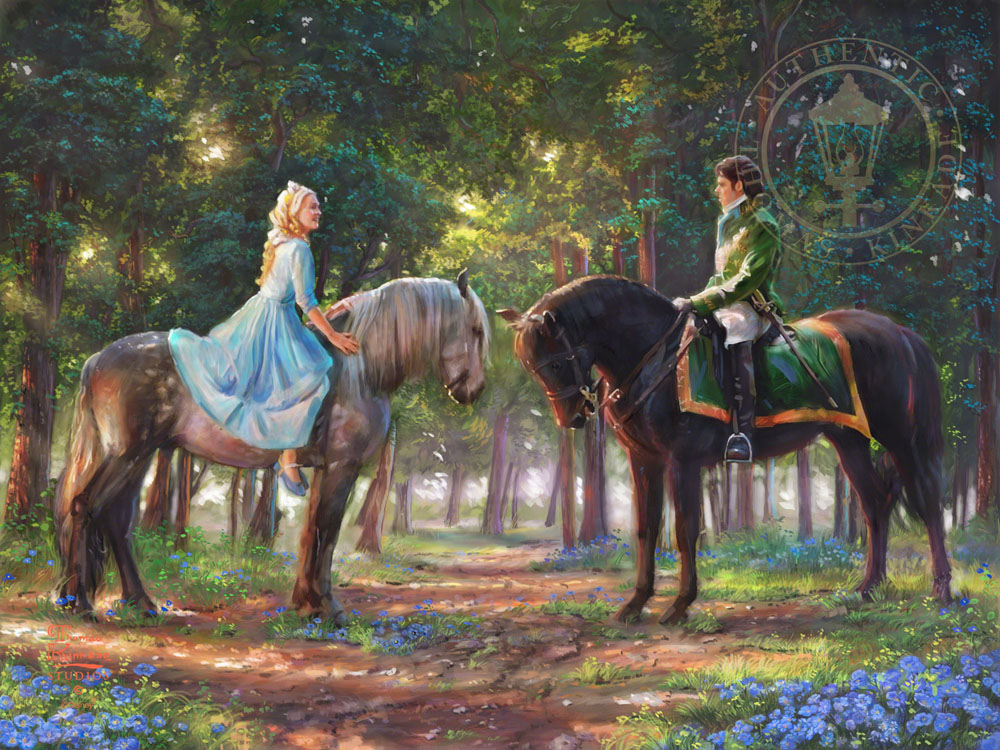 Warm hearts and make memories with paintings of romantic movies from the California Thomas Kinkade galleries in Carmel, Monterey, and Placerville. For wall art that makes a lasting impression, there's nothing like a scene from your favorite movie captured for all time in a romantic painting. Our Limited Edition canvas art brings these scenes to life again and again in the spaces you love.
Romantic Movie Art
War, evil queens, a house full of unruly children. The backdrop to your favorite romantic movie can be as varied as the soon to be lovers themselves. Live-action or animation, classic or modern, no two couples are alike.
More Than Sunsets & Flowers
Romantic art often brings to mind paintings on canvas full of tropical sunsets, European cafes or bouquets of flowers. We know because we carry this popular type of artwork as well. Seeing that first glint of shared affection, however, or a clumsy attempt at a love confession really sets your mind alight in our romantic movie art.
Classics That Will Touch Your Heart
There's nothing like the lovely duet of Maria and Captain Von Trapp set against scenes of unity, fear, and family in The Sound Of Music. You can relive your favorite moments in these films every time you enter your room with our romantic movie paintings.
When You Feel Like A Princess
Celebrate your happily ever after with artwork from some of the best Disney romances of all time. Innocent hopes, overcoming obstacles, sacrifices, and struggles collide in these animated adventures, just like in some of our own love stories. There's nothing like a little Disney to fuel hopes for a fairy tale ending.
Setting The Scene For Love
Wedding gifts, anniversary presents, housewarming gifts, and reception decor are all great reasons to buy or give fine art depicting scenes from romantic movies. Whether you are celebrating someone else, treating yourself, or inviting a little more love into your space, we have canvas art that fits the bill.
Find Artwork From Romantic Movies
Heat up your California home decor or choose the perfect gift from paintings of romantic movies from one of our conveniently located California Thomas Kinkade galleries. Visit us today in Carmel, Monterey or Placerville. We look forward to helping you make your Limited Edition selection.