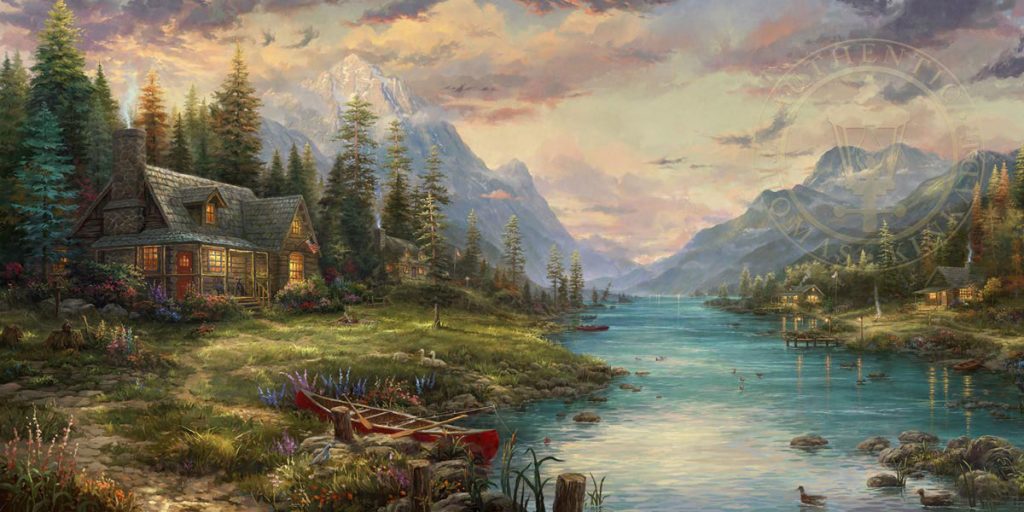 Some of the most wonderful outdoor memories many of us have, include water of some sort. Whether its the ocean, a small stream, a babbling brook, a raging river, or the canal feeding our cities and crops, water is enchanting. At Thomas Kinkade in Carmel, Monterey, and Placerville, you'll find beautiful paintings of rivers to enhance your space.
River Paintings For Nature Lovers
We all know someone who lives and breathes outdoor life. Their very soul seems to be fed by nature.  River paintings are perfect for these close friends, family members or business associates. Give them a painting on canvas that brings everything they love about time by the river, indoors.
Transport Yourself Through Fine Art
River paintings can stop people in their tracks. They transport us to peaceful places. They can also remind us that even a raging river finds calm after the storms pass. These fine art pieces can easily calm or inspire.
Artwork For Every Space
So why not fill our homes and offices with wall art that elevates us? Decorate the man-cave or craft room with artwork that brings relaxation. Paintings of rivers are perfect for waiting rooms and guests rooms as well.
Our Collection Of River Paintings
At our California Thomas Kinkade galleries, gorgeous paintings of rivers, streams, brooks, and creeks are easy to find, but maybe not as easy to choose from. Our art consultants are on hand to help you pick the river art that speaks to you. Here are just a few options you might consider:
Home Decor To Impress
Your home decor speaks volumes to those who enter about who you are and what matters to you. Let your wall art be a source of inspiration for your guests with paintings of rivers that seem to say family, faith or peace.
Jungle rivers, colorful spring rivers, a favorite country fishing creek, a calm chapel brook or graceful, forested meandering springs are all yours to choose from. Picking just one will be the hard part.
River Art In California
We invite you to explore paintings of rivers today. Stop by Thomas Kinkade in Carmel, Monterey, or Placerville, California. If you have questions about a particular painting from the site or our many framing options, contact us.