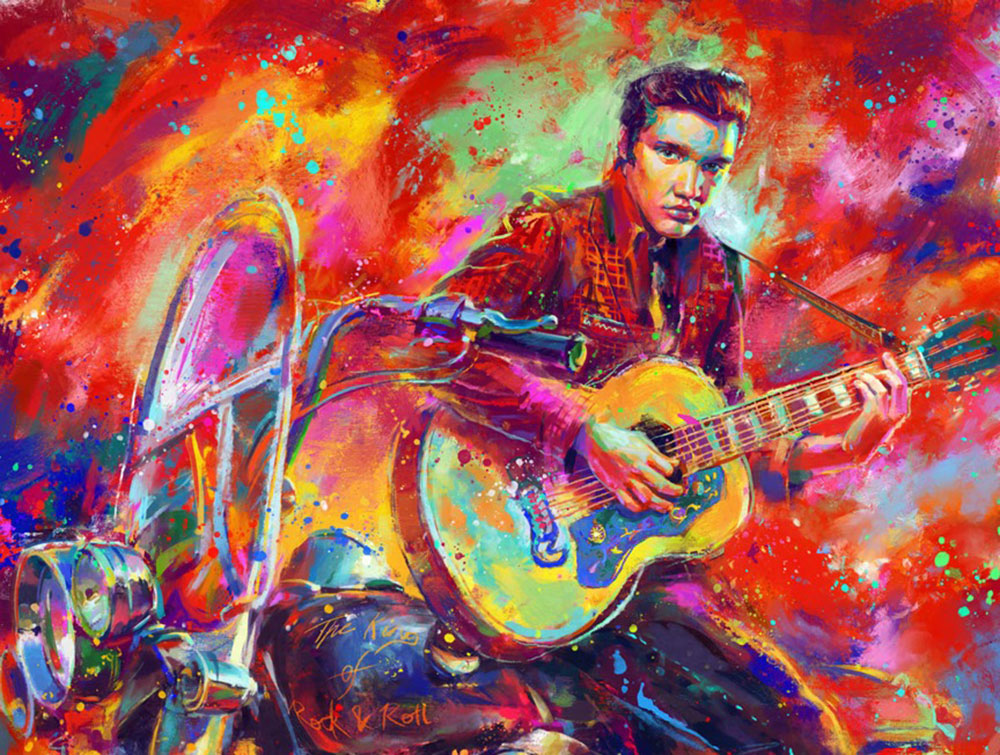 Visit our galleries to experience the one of a kind magical beauty of original art paintings for music lovers. There's nothing like being able to view a masterpiece in all its wonderful dimensions and layers in its intended size and minute details.
Blues & Rock 'N Roll Fans Delight
In our galleries, we have scenes that will make your heart sing with the memories of all your favorite Disney movies and classic rock 'n roll favorites. Stroll through the landscapes of Graceland, Elvis's famous Memphis estate, painted by Thomas Kinkade during Gracelands 50th anniversary commemoration. If you're an Elvis fan, don't forget to ask about the newest Elvis painting to hit our gallery, The King of Rock n' Roll by one of our featured artists, Blend Cota.
Enchanting Musicals & Movie Memories
Let your mind wander and stroll through the magical landscapes of Europe's rugged scenery of the Matterhorn and the Alps with The Sound of Music. Give your family the gift and pleasure of reliving your favorite classic musical masterpieces. From the most beloved movies such as The Wizard of Oz, Fantasia and all the Disney classics including the most recent movies Tangled, Ice Age, Pirates of the Caribbean, The Polar Express, and The Princess and The Frog.
Rediscover The Magic
Visit one of our galleries today to experience the beauty and light that can be shared through the joy of our paintings for music lovers. We are guaranteed to have a collection or piece that will make your heart sing. Our professional and knowledgeable staff are waiting to help you choose the right gift for your home or office, and to bring the magic back into your life.