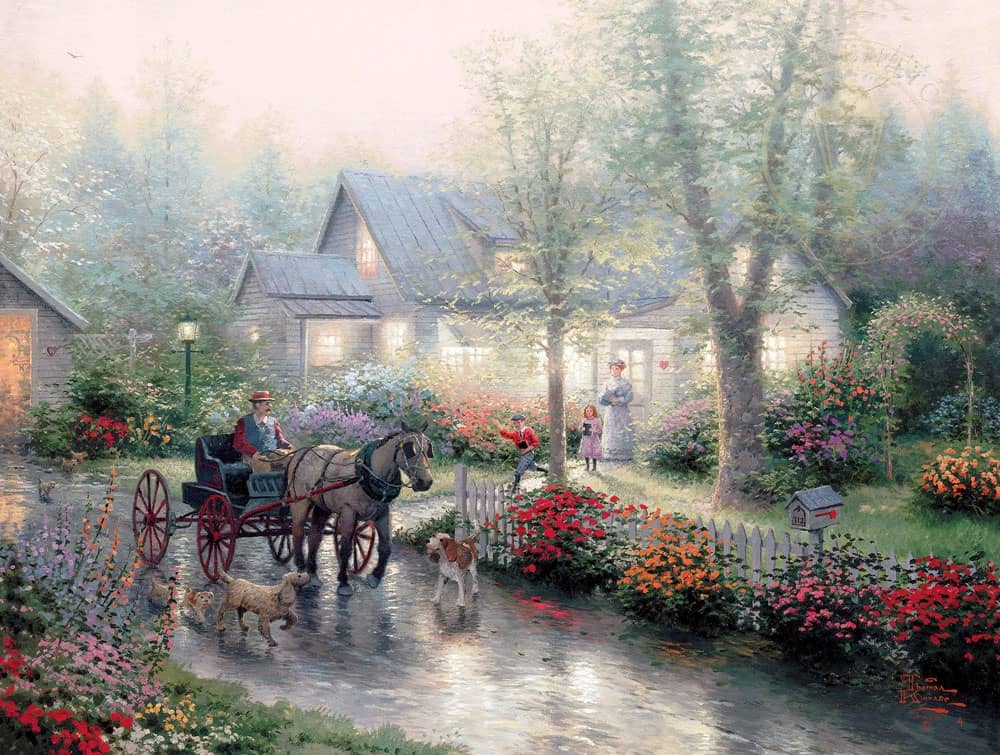 If you love horses or know of someone else who does, you'll want to visit one of our California Thomas Kinkade galleries to see exquisite paintings just perfect for horse lovers. Many of the paintings in our Carmel, Monterey, and Placerville locations capture the beauty of horses in a variety of settings.
From horse-drawn carriages to winter sleigh rides pulled by these majestic creatures, our horse art would look great in any home, office, or getaway cabin.
Country Charm
Our delightful horse paintings invoke a sense of longing for the charm and simplicity of yesteryear. Take a step back in time when families dressed up in their Sunday best to take a ride in a horse-drawn carriage along quiet country roads, as in Sunday Outing.
Or travel to a quaint village in Ireland with the painting on canvas, Emerald Valley, where horses work alongside families as they tend to their farm chores. You'll almost be able to smell the fresh hay and sprawling flowers when you see this artwork in person.
Winter Nostalgia
Bundle up, pour some hot cocoa, and get ready for a sleigh ride. You'll love the nostalgic details in our winter horse paintings. In Starlight Evening, light streams from quaint cottages as the villagers stroll along the snow-filled road to Christmas-Eve Mass. They pass a horse pulling a lucky rider in his sleigh.
Our snowy horse paintings would make a magical addition to any holiday home decor.
Beauty For The Generations
If you are looking for the perfect gift for the horse lover in your life, a horse painting from one of our Monterey galleries is sure to be a hit. Unlike gifts that break, wear out, or go out of style after a few years, our paintings are not only stunning to look at, but they are made with high-quality materials to last for generations.
Find Horse Art In California
Embrace your love of horses with art from our Carmel, Monterey, or Placerville, California Thomas Kinkade galleries. Our friendly art consultants will help you find the perfect piece of horse art for your home.