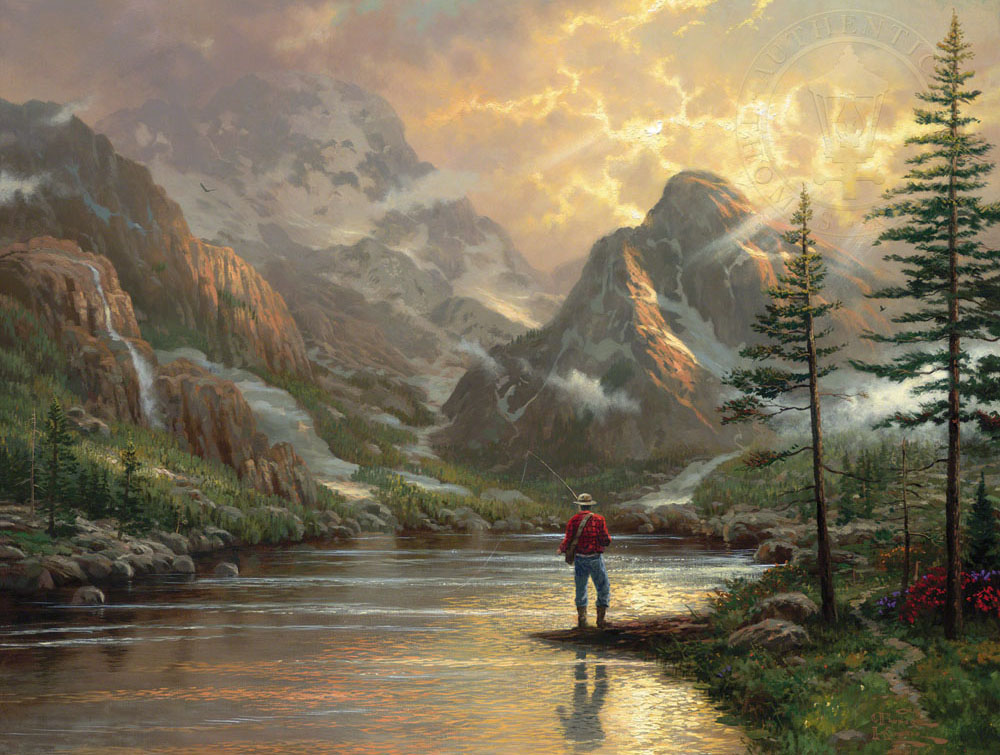 Give your grandparents something special this Grandparents Day with a Limited Edition painting from Thomas Kinkade. Perhaps your grandmother loves the beauty of quaint cottages nestled among a grove of majestic pine trees. Maybe your grandfather enjoys the roar of race cars at the Indianapolis Motor Speedway.  With a variety of beautiful, unique paintings, you'll be sure to find something for the grandparents in your life.
Down by the Sea
Thomas Kinkade masterfully captured the beauty of the sea in many of his paintings. If you want to bring the splendor of the ocean to your grandparents, consider giving them a painting from the Oceans collection. In the beautiful Beacon of Hope, a lighthouse stands as a beacon of faith against the crashing waves of the storm. In Footprints in the Sand, the footprints along the ocean's shore are a reminder that God carries us through our trials. The arch of San Francisco's Golden Gate Bridge spans across the bay in San Fransisco, Golden Gate Bridge.  In our galleries, you'll find a large assortment of dazzling seascape paintings.
For the Sports Fan
From a nostalgic look at race car driving at the turn of the twentieth century to the relaxation of a great game of golf, you'll find the perfect painting for the sports fan in your life. Here are just a few of the Limited Edition sports painting in our gallery:
The Great Outdoors
Bring the great outdoors inside for Grandparents Day this year. Reflections of Family uses the symbolism of rushing water through nature to beautifully capture our prayerful journey with God. Get away from the hustle and bustle of everyday life with the painting, Away From it All. Is your grandfather an avid fisherman? He would surely love the serene painting, Almost Heaven.
Great Gifts For Grandparents
Come into one of our galleries, to find the perfect gift for grandparents day. Not only will we help you find just the right painting, but we will assist you in finding proper lighting for your work of art. Visit us today to experience the splendor of Thomas Kinkade.