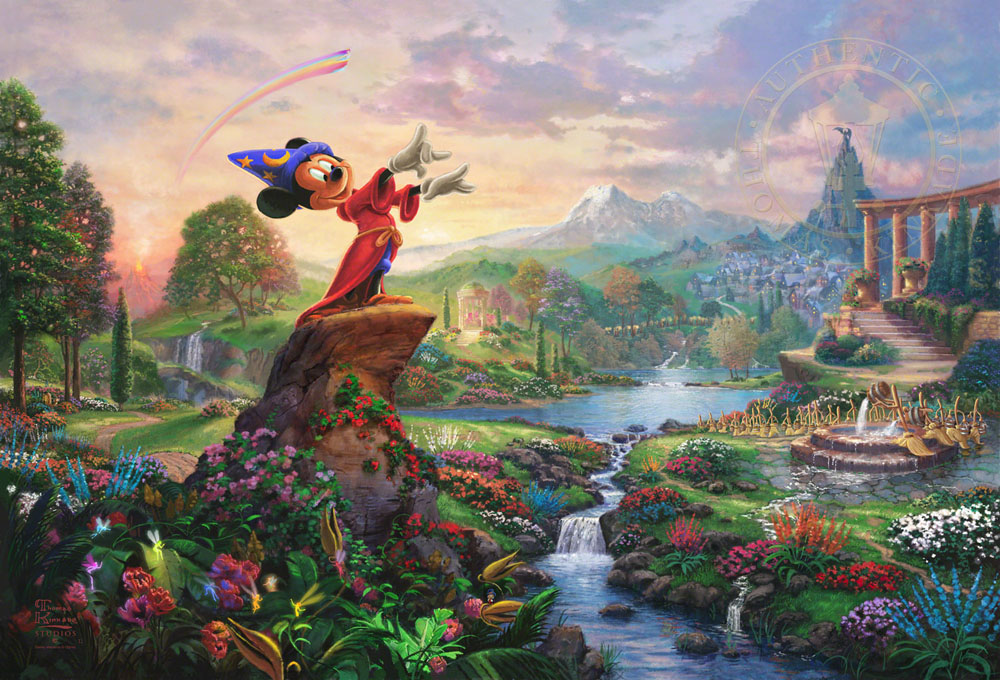 If you're looking for a beautiful work of art to adorn a child's room, you'll find a large collection of fine art to choose from in one of our galleries. We are the exclusive Signature Gallery dealer for California, and we would be happy to help you find the perfect Thomas Kinkade painting to meet your needs.
Disney Art
Create a magical room for your child with Limited Edition Disney art. Whether your child enjoys the classic story of Dumbo the Flying Elephant, or the sweet love story of Cinderella, or the adventures of the Pirates of the Caribbean, you'll find that these exquisite Thomas Kinkade paintings will thrill any child. Some of the paintings included in the Disney collection include:
Super Hero Art
What child doesn't get a surge of excitement from watching their favorite super hero saving the day? Bring adventure home with a DC Super Hero fine art painting. Do you have a Superman fan in your home? In Superman, Man of Steel, Thomas Kinkade beautifully captures the action-packed scene as Superman rises high above the city of Metropolis to meet Doomsday, the villain created by Superman's enemy, Lex Luther. Perhaps your child wants to experience the thrill of Batman and Robin saving Gotham City from the Joker and other nasty villains. The Dark Knight Saves Gotham City would be a perfect choice. Experience three superheroes in one painting in Batman, Superman, and Wonderwoman. At Thomas Kinkade, you'll find something for the superhero in everyone.
Garden Art
Bring the great outdoors inside with a dazzling garden painting. Do you want to bring a touch of springtime to an otherwise dreary, wintery day? In Thomas Kinkade's final painting, Eternal Springtime, you'll find a charming garden bench surrounded by cheery, colorful lilies. Experience the tranquility of the Garden of Eden in the painting, Pools of Serenity. This lovely painting features a quaint pool of water surrounded by splashes of vibrant flowers. Bring inspiration to your child's room with Stairway to Paradise. In this painting, the flower-lined staircase represents moving up and progressing towards paradise.
Fine Art for your Child's Room
Whether you child enjoys the magic of Disney, the adventure of DC Comics, or has a special love of the outdoors, the art consultants at Thomas Kinkade will help you find the perfect painting that will bring joy for years to come. Come in today and browse our selection of fine art that would make an excellent addition to any home decor. The paintings at Thomas Kinkade are specially made to last for generations and would make wonderful family heirlooms.
Visit Our Galleries Today
Come visit one of our galleries, and we'll be happy to show you around. Our passionate and knowledgeable staff will help you with everything from finding that perfect work of art, to selecting the right frame, to helping you to choose just the right lighting. Are you intimidated with knowing how to hang your new painting? We can help with that too. Stop by and see us today.