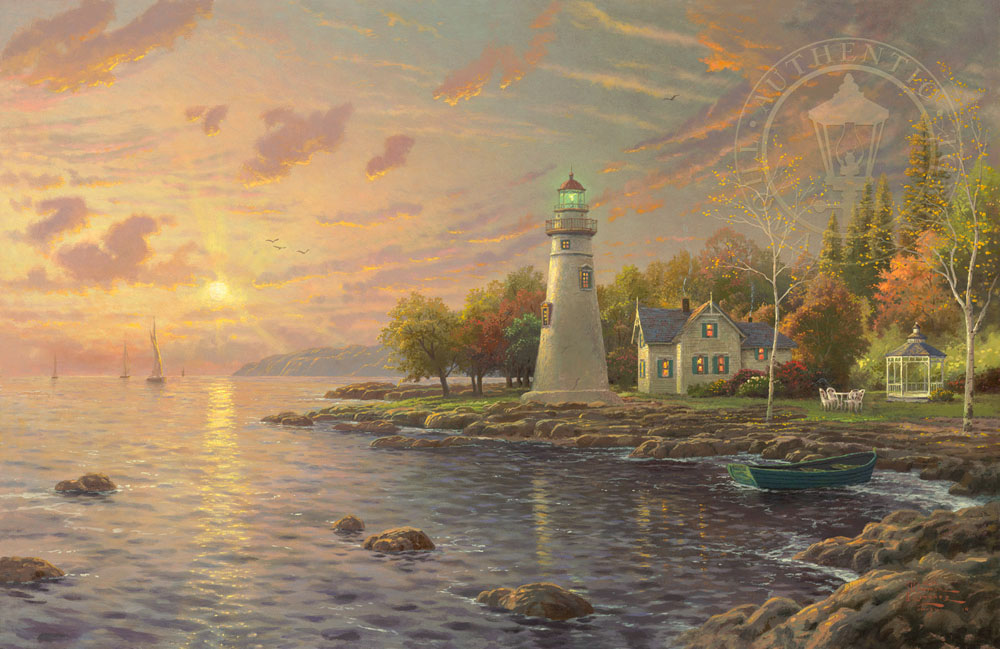 Experience the beauty and detail of lighthouse paintings by Thomas Kinkade at our galleries in Carmel, Monterey, and Placerville, California. These exquisite paintings make use of vibrant colors on high-quality canvas and are made to last for generations to come. You'll almost feel the sea breeze and smell the salty air as you gaze at this amazing lighthouse art.
A Symbol Of Hope, Strength, And Safety
Since the time when the first lighthouse was erected on the island of Pharos to help guide trade ships into Alexandria, Egypt's busy harbor, lighthouses have been guiding watercraft to safety. These majestic structures not only symbolize safety for boats and ships on rough waters, but they stand as symbols of strength and assurance for our own lives, especially during turbulent times. You don't have to travel to the seaside to see the significance of these steady pillars. With a Thomas Kinkade lighthouse painting, you can enjoy these symbols of hope, strength, and safety in your own space.
Thomas Kinkade Lighthouse Paintings
Thomas Kinkade is known as the Painter of Light™. He uses his signature technique of light and color play to capture the beauty and symbolism of lighthouses in his art. In the painting, The Light of Peace, you almost feel the warmth of God's love as radiant light streams from the heavens while a lighthouse beckons far-off boats to safety.
In the painting, The Sea of Tranquility, a sturdy lighthouse stands peaceful and brilliant, reminding us that we can find peace and tranquility in our own heart and home. A lighthouse serves as a steady, firm guide against a brilliant sunset in the painting, Rock of Salvation. Other Kinkade paintings of lighthouses include:
Stunning Wall Decor
This canvas art brings a feeling of tranquility into your office. Lighthouses as home decor not only look beautiful but have great meaning. Displaying this art in your church can reflect the peace and strength of God's love. When you visit our Thomas Kinkade galleries, our knowledgeable art consultants will help you find lighthouse wall art that would be perfect for your specific space.
Lighthouse Art In Monterey Bay
You'll want to visit our California gallery closest to you to see the details of these impressive paintings in person. We are proud to offer Thomas Kinkade's dazzling collection of lighthouse paintings at our Carmel, Monterey, and Placerville galleries. These paintings will be a wonderful addition to any space. Visit us today and experience the light for yourselves.
Lighthouse Paintings: Frequently Asked Questions