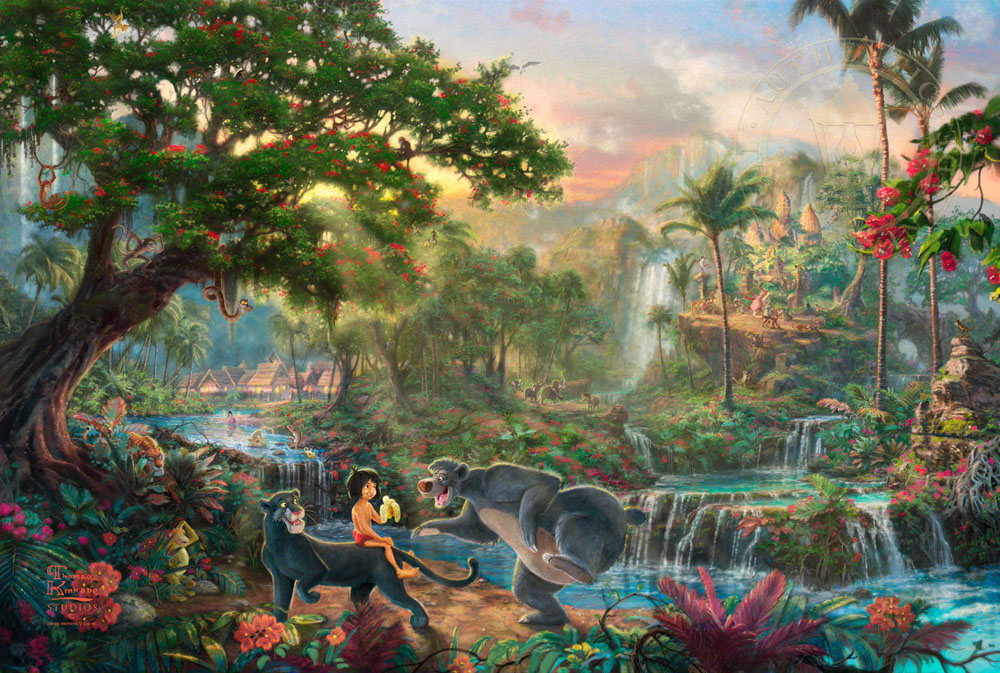 Invite a bit of exotic adventure into your life with Jungle paintings from the California Thomas Kinkade art galleries in Monterey, Placerville, and Carmel. Our jungle art is masterfully crafted by skilled artists. The beauty of these paintings is designed to last for years and would make a stunning addition to any office or home decor.
Decorating With Jungle Art
Have you ever dreamed of going on a jungle safari to explore lush landscapes, see exotic creatures, and experience the thrill of being "away from it all?" With jungle paintings from one of our California galleries, you won't need a passport and weeks of vacation time to see the jungle.
Disney's The Jungle Book would look great in a pediatric office. Blend Cota's King of the Jungle would give a regal splash of color to any office. When you visit our art gallery, our friendly consultants can help you find the perfect jungle-themed canvas art for your space.
Home Library
Public Library
Child's Nursery
Child's Bedroom
Office
Game Room
Dentist Office
Where The Wild Things Are
Some of the most beautiful and exotic animals make their homes in the jungle. People from all over the world travel to these remote locations to catch a glimpse of tigers, lions, snakes, monkeys, and elephants. Bring the beauty of these creatures into your home or office with one of our jungle paintings.
Zachary Kinkade's painting, Tiger Jungle, showcases a tiger on the prowl amidst ancient ruins in a colorful, lush landscape. Blend Cota's King of the Jungle gives a lion a sophisticated yet modern look. Stop into one of our galleries to see the exquisite details of this fine art for yourself.
Exploring The Jungle With Disney
Our Disney jungle wall art gives a playful feel to the jungle landscape. Whether you are looking to decorate a child's nursery, bedroom, playroom, or workspace, you'll love our Disney jungle paintings.
Jungle Art In California
Explore our jungle paintings on canvas at Thomas Kinkade in Monterey, Carmel, and Placerville, CA. Our friendly art consultants are ready to help guide you through the breathtaking adventure of starting your jungle art collection. Visit us today for beautiful fine art and top-notch service.