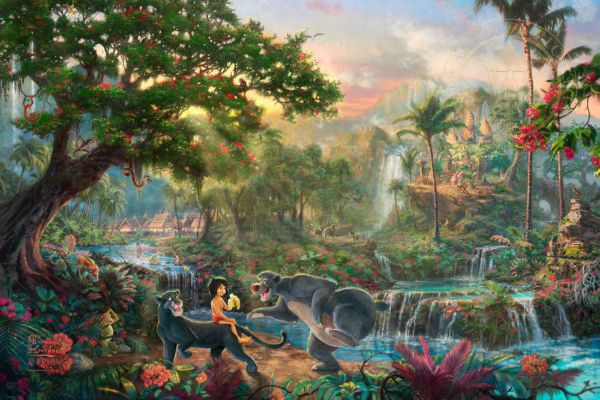 2022 is the year of the tiger. Make sure you kick off 12 months of a roaring good time by surrounding yourself with inspiring fine art.
At the Thomas Kinkade galleries in California, we carry jungle paintings that are perfect for decorating or gifting to wildlife fans of all ages.
Bring one of these amazing paintings home and show your jungle spirit.
Explore The Jungle With Mickey & Friends
You might not spot a tiger, but is that chameleon wearing a scarf? In Eric Dowdle's Mickey And Friends Explore The Jungle, we join Donald, Daisy, Mickey, Minnie, Goofy, Pluto, and a riot of colorful animal life.
You won't miss the tiger in this Limited Edition painting when you check out Dowdle's sleepy cheetah, swinging monkeys, and a wonderful backdrop of ancient ruins.
Get Lost In Zac Kinkade's Tiger Jungle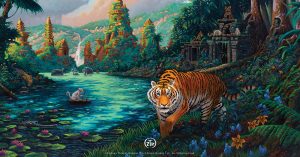 On the other hand, Zac Kinkade's Tiger Jungle features your favorite big cat front and center. The texture on this prowling predator is breathtaking. You can imagine the splish-splash of a ferrying monkey and the frolicking family of elephants in the background.
Don't miss your chance to purchase this gorgeous Limited Edition during the year of the tiger.
Join Mowgli, Baloo, & Bagheera In The Jungle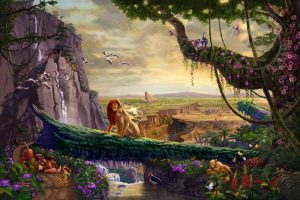 What about gifts for the kids while shopping for jungle art? You can get the little ones excited for the year of the tiger with The Jungle Book painting. Can you find the iconic Bengal tiger, Shere Khan, lurking in the background?
Celebrate With Thomas Kinkade's The Lion King
No tiger paintings collection or Thomas Kinkade Disney collection is complete without The Lion King. Find all of your favorite wild animals gathered together to celebrate the birth of a new prince – what a great way to start your celebration of a new year – the year of the tiger.
Shop Jungle Paintings In California
Stop by your local Thomas Kinkade fine art gallery in Monterey, Placerville, or Carmel, California today. Ask a friendly Art Consultant to show you our exciting collection of jungle paintings for the Lunar year of the tiger.