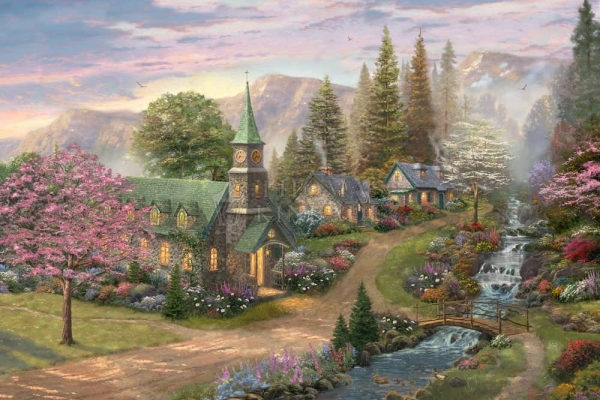 Make your home a sanctuary, decorate your prayer closet or meditation space, or invite a peaceful vibe into work with religious paintings. Peace, hope, and love can be hard to come by during trying times, but that doesn't mean we can't seek them out and spread them around.
We invite you to explore selections from our collection of inspirational Christian Wall Art.
A Celebration Of Christian Traditions
Contemporary Christian wall art can be a great gift idea for traditional celebrations like baptisms, confirmations, and marriages. Sunday Morning Chapel depicts a quaint village church amidst nature in spring – a time of new beginnings and fresh starts. What better way is there to inspire new couples, new faith, or new life into the world?
Encouragement During Trying Times
We all face challenges in life. Christian artwork is an excellent reminder that we're not alone and not the first to struggle. We carry paintings like Jonah and Footprints in the Sand, which make excellent wall decor for therapy offices, family rooms, church sitting areas, and anywhere else we might come to feel the promptings of the spirit during trying times.
Popular Christian Landmarks
If you can't get away to walk along the same stones as the Savior or worship at famous chapels, why not bring the beauty of Christian landmarks home through faith-building paintings like Vatican Sunset? Just spending a little time with this artwork can bring pleasure in more than the astounding architecture.
Cardinals, doves, and statues dedicated to the saints all stand alight alongside Vatican City, reminding us that we are part of a greater community of Faith.
Scenes From The Life Of Christ
Maybe some of the most inspirational of all Christian wall art are paintings of scenes from the life of Christ. This artwork allows viewers to join Mary at the miracle of The Nativity, humble fisherman in Sunrise, Sea of Galilee, the Savior tending his flock in A Prayer for Peace, His legacy at The Cross, and the hope held within The Garden Tomb.
Get Inspired With Our Religious Paintings
Stop by the Carmel, Monterey, or Placerville gallery of Thomas Kinkade in California. Our friendly Art Consultant can help you find the perfect large Christian wall art or small inspirational painting today.