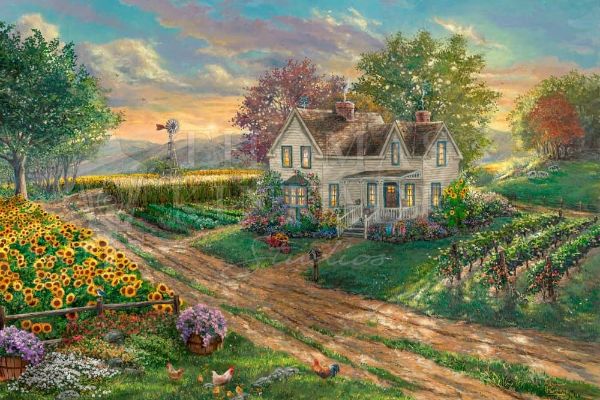 Are you looking for a fine art gallery with unique pieces that can brighten up your walls? With wall art filled with light, you can brighten up a dimly lit workspace or perk up a dark office. Add light with warm paintings in the tradition of Thomas Kinkade. Lighten your mood and brighten dark rooms with some help from the painter of light.
Inviting & Inspirational Ways To Brighten A Dark Room
Add Paintings Full Of Light
Employ Warm Aesthetics
Bring The Outdoors Inside
Play With Patterns
Paintings With Lots Of Light
Brighten your dark corners with illuminated cityscape paintings with sunny yellows, glinting silver, and bright blues that rest the eyes and soul. Some works of art feature sophisticated interpretations of light that elevate the appearance and vibe of a space. Consider Cityscapes, one of the many genres of Thomas Kinkade's works of art available at our galleries. These paintings are infused with the light of the morning or evening sunlight.
Explore Warmer Aesthetics
It's not always necessary to add a great deal of brightness. Artwork can also lend warmth to cold, dimly lit rooms. Give your brain and body a serotonin boost with artwork featuring sunset scenes that feature burnt apricot, pumpkin, and warm orange tones. Consider paintings such as Late Afternoon on the Farm to get the right vibe for your home office, dining room, or other space.
Invite A Little Nature Inside
Bringing a little bit of nature inside your space is one of the best ways to make it feel brighter. Artwork that features natural scenery is also a great way to bring the outdoors to any space. Paintings with golds, greens, and organic or earthy tones add warmth and brighten your living room, office, kitchen, or hallways. Bring the outside in with Thomas Kinkade's garden paintings.
Pattern Play With Paintings
Consider saturated colors that pop to give any wall more oomph. You can create your motifs with paintings that feature patterns found in natural and man-made structures. We recommend Thomas Kinkade pieces with gazebos and fields for a more subtle approach to textures and patterns. For example, Sunflower Fields presents crisp lines of sunflowers juxtaposed with a hazier, less structured landscape.
Brighten Dark Rooms With Thomas Kinkade Paintings
Dark walls may negatively affect your mood, impacting your overall mental health. Make your space brighter with Thomas Kinkade's bright, beautiful paintings. Visit us online or at any one of our 3 locations in California: Carmel, Monterey, & Placerville.