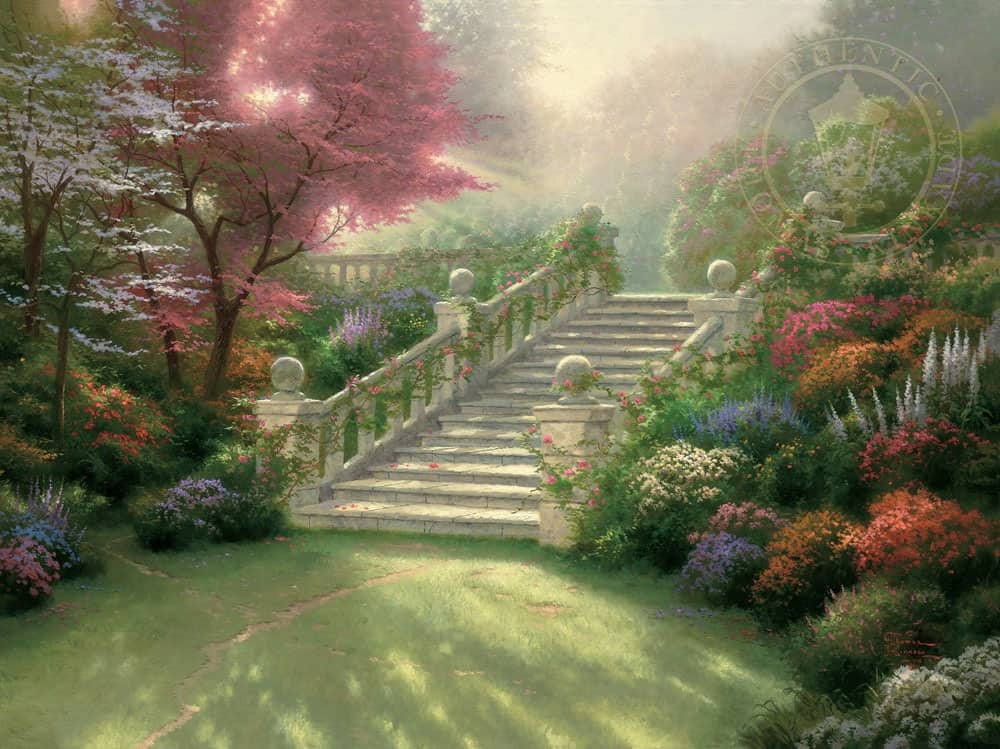 Visit one of our California Thomas Kinkade galleries in Carmel, Monterey, or Placerville to experience the colorful splendor of our floral paintings for Easter. Explore our vibrant selection of wall art, sure to thrill your guests and enhance your spring festivities.
Celebrate Easter With A Splash Of Color
Easter is a time when colorful tulips, sunny daffodils, cheerful crocuses, and elegant lilies stretch out of the ground to welcome spring. Smell the fragrant blooms and feel the warmth of the sun as you gaze at the floral painting, Eternal Springtime.
Immerse yourself in a wonderland of hues as you meander down the winding path in Spring Gate. With Easter wall art from one of our California art galleries, you can bring the joy of spring indoors to enjoy year-round.
Faith & Hope At Eastertime
Symbolically share your faith in God through stunning artwork. In The Garden of Prayer, a gazebo, surrounded by an array of pink, purple, and white flowers, provides a tranquil site for communing with God.
In Stairway to Paradise, we are reminded that the progression we make in this life brings us closer to God. A stairway, surrounded by clusters of vibrant blooms, represents our journey as it leads upward toward the light streaming from the heavens.
Other floral Easter paintings of faith you might enjoy, include:
Spring Blooms To Last Forever
If you are looking for home decor that is not only beautiful but is designed to last for generations, consider adorning your walls with one of our beautiful floral paintings on canvas. Whether gifted or displayed in your own home, this artwork will stand the test of time.
Imagine basking in these flower gardens as you eat meals together with your family, or gazing down one of our quaint country lanes when you wake up in the morning.
Whether you are looking to add a bit of charm to a guest bedroom, liven up a dining room before an Easter feast, or bring a bit of spring into your home office long after the egg hunts are over, our paintings of flowers look great in any space.
Easter Wall Art In California
Welcome Easter this year with artwork from the Thomas Kinkade galleries in Monterey, Carmel, or Placerville, California. Our friendly art consultants will greet you and take you on a journey through a garden of floral paintings to help you find the perfect piece for your Easter decorating.