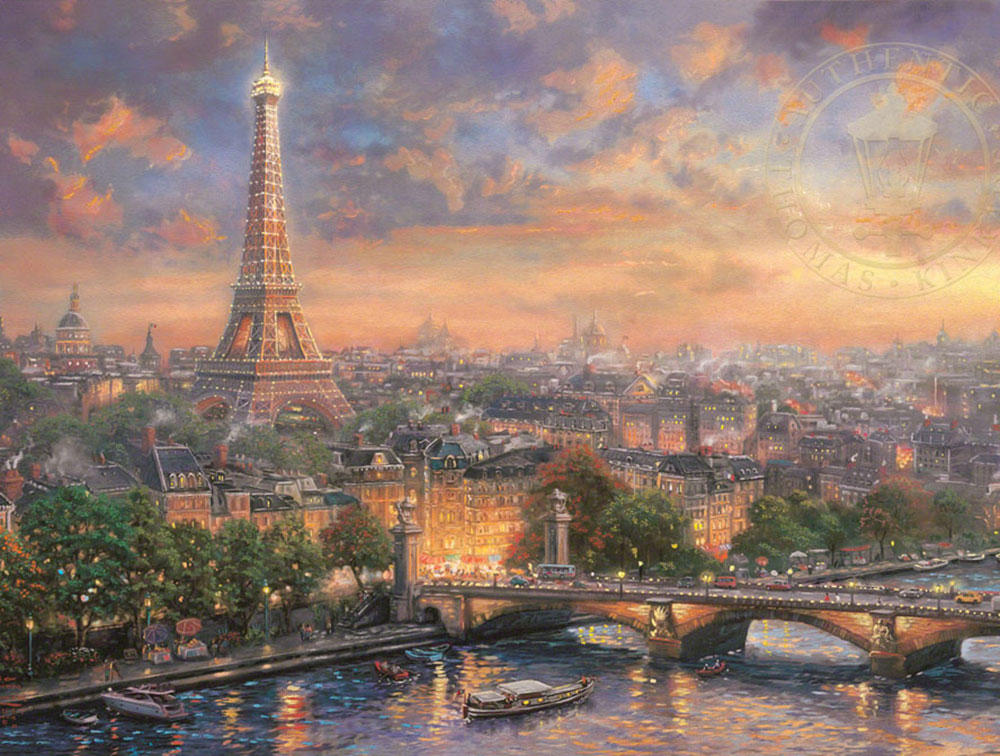 For a beautiful collection of European themed paintings, stop by Thomas Kinkade in Carmel, Monterey, and Placerville, CA. From the twinkling lights of the Eiffel Tower to quaint English cottages to seaside splendor, a piece of Limited Edition European themed artwork would make a beautiful addition to any home decor.
Paris, The City Of Lights
Thomas Kinkade was known as the Painter of Light™. So, it is fitting that he would choose Paris, the city of lights, to showcase his popular techniques. Not only is Paris filled with nearly 300 illuminated sites dotting its landscape, but Paris was also considered the intellectual center during the age of enlightenment. It's no wonder Thomas Kinkade loved this breathtaking city. Visit our signature galleries to see heart-stirring Paris paintings, including:
Viva L'Italia
Italy, with its long, beautiful coastline, picturesque vineyards, and coastal villages, made a perfect location for Thom's Plein Air European-themed paintings. He and his wife, Nanette, would spend time during their vacations scouting out the perfect Italian landscapes to recreate on canvas. For instance, it was Nanette who discovered a stunning view of Portofino, a coastal town on the Riviera, for Thom to paint. Other Italian-themed paintings from this region include:
The English Countryside
Thomas Kinkade loved the English countryside. He spent many happy hours capturing the scenic landscapes onto canvas. In the painting, Lovelight Cottage, a quaint country lane leads to a welcoming thatched-roof cottage, nestled among the colorful foliage.  By contrast, a grand English estate is the subject of another of Thom's English paintings, Garden Manor. Other English paintings you might enjoy include:
European Themed Art In The Monterey Bay Area
Visit Thomas Kinkade in Carmel, Monterey, and Placerville today to see the details of these European paintings in person. Not only will you find a beautiful piece of art for your home or office, but you'll also have a variety of frames from which to choose to complement your piece. Online ordering is also available for your convenience. We look forward to seeing you soon.