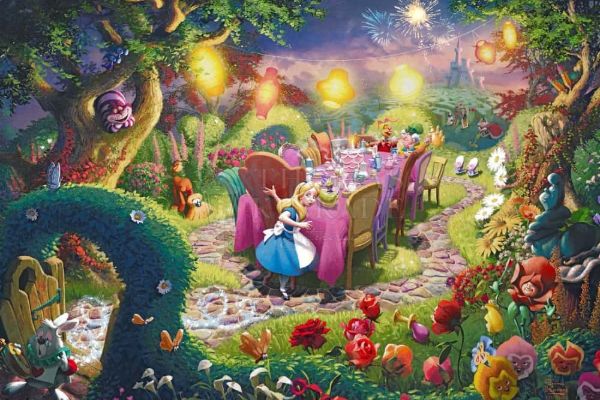 Springtime is a time to lighten and brighten up your home decor. How do you decorate for the season without the typical bunnies and Easter eggs, but still keep things kid-friendly?
The answer is simple, choose Disney fine art piece to display in your home.
We've gathered 7 Thomas Kinkade Disney paintings that are just perfect for spring.
1. Disney Mad Hatter's Tea Party
While Disney Mad Hatter's Tea Party does feature two rabbits, one is mad, and the other is in a big hurry. The Cheshire Cat overseas a confused Alice in the beautiful clearing of Mad Hatter's tea party.
This painting features plenty of greenery, bright colors, and the soft illumination of hanging lanterns.
2. Mulan — Blossoms Of Love
In Mulan — Blossoms Of Love, Mulan, and Li Shang gaze into each other's eyes next to a tree full of spring cherry blossoms. Is that a storm brewing in the backdrop? Perfect. That's just what the burbling spring and lush river-side florals need this season.
3. 101 Dalmatians
Baby animals have long been a symbol of springtime. 101 Dalmatians have no shortage there. Both flowers and love blossom in this Limited Edition painting as Roger swings Anita through the air and Pongo snuggles up with Perdita. By far, the brightest spring blooms in this scene are the puppies, puppies, puppies.
4. Mickey & Minnie In Paris
They say April showers bring May flowers which keeps us happy and hopeful about staying indoors during spring season rainstorms. Mickey Mouse and friends aren't letting a little wet weather get them down in Mickey & Minnie In Paris.
Mickey and Minnie are using the weather as an excuse to cuddle a little closer under their umbrella, while Daisy and Donald forgo welcome the wet on a bicycle built for two. This painting is full of the free and easy feelings of spring.
5. Disney's Alice In Wonderland
In Disney's Alice in Wonderland, the Mad Hatter's tea party takes a backseat while the Singing Flowers are front and center among a park scene bursting with an explosion of color. Alice and Dinah relax lazily next to a cool, sparkling stream, and is that magic in the air?
If springtime is all about sunshine, plants, and a world flush with lively hues, this painting is for you.
6. Disney Dumbo
The misty mountains and light reflecting off the cobblestones in Disney Dumbo are reminiscent of spring just after a rainstorm. There's nothing as pink as Dumbo's high-flying ears in the scene, but there's plenty to see there since they're jumbo-sized.
The plant life, people, animals, and circus structures all look saturated with rich, post-shower color. This is just the painting to refresh a nursery, library, or family room in spring.
7. Bambi's First Year
Melting mountain snows feed a lively rainbow-misted brook in Bambi's First Year. Forks of lighting foretell a storm to come. However, the sweetest springtime touch in this painting is little Bambi and his new friends, Thumper and Flower.
Is that little Faline in the background? This beautiful fine art scene captures the youth, color, and stormy nature of springtime all in one Disney painting.
Shop Our Spring Decor Ideas
Now that we've piqued your interest, we invite you to browse our Thomas Kinkade Disney paintings for spring up close. Stop by and visit our California fine art galleries in Carmel, Placerville, and Monterey today.