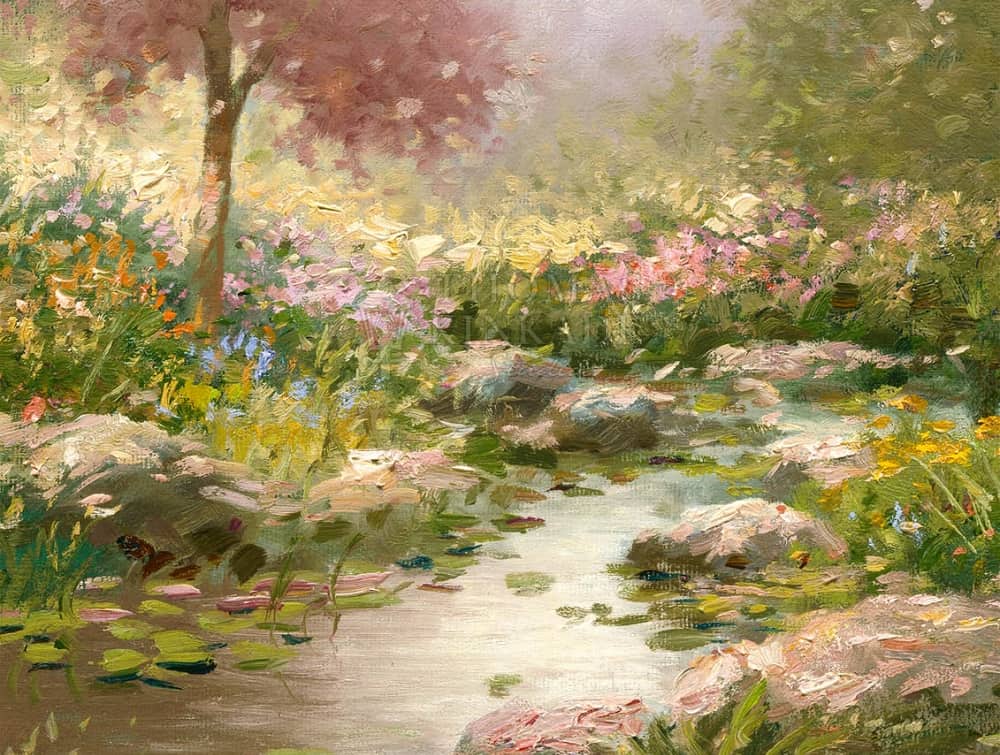 Decorate for spring with bright paintings from our Thomas Kinkade galleries in Carmel, Monterey, and Placerville. Spring is a time when the world comes alive with color. Colorful tulips, sunny daffodils, and clusters of roses beckon passersby to slow down and enjoy the beauty all around.
With bright wall art from one of our Thomas Kinkade galleries, you can enjoy the vibrant colors of spring in your own home year-round.
A Wonderland Of Color
The most beautiful landscapes are captured in light, vibrancy, and details in our canvas art. In Gazebo of Prayer, a gazebo stands among a garden bursting with the bright colors of blossoming trees, flower gardens, and roses winding their way around this sweet structure.
You'll want to stop and smell the roses in The Rose Arbor Cottage. A romantic garden of blossoms leads the way to a charming thatch-roofed cottage.
Consider these bright paintings for your spring decorating:
Welcome Spring With Bright Wall Art
Bring a splash of color to your dining room with stunning flower gardens, bring bright, romantic roses to your bedroom, or take tumbling waterfalls surrounded by fields of wildflowers to your office. With fine art from Thomas Kinkade, you can enjoy the beauty of the outdoors from the comfort of your own home or office.
Quality & Excellence
Our paintings are stunning to look at and created with quality and excellence in mind. Each color-filled art selection is painted with fade-resistant paint on high-quality canvas, creating a work of art that is designed to last for years to come.
If you are looking for a gift for a loved one, consider giving them a brightly colored painting that will be cherished for generations. We'd be happy to help you find the perfect one.
Beautiful Spring Decor In California
Give a nice, bright welcome to spring this year with a painting from one of our California art galleries. Our helpful art consultants will help you with everything from choosing the right piece for your wall, to deciding on a size, and even help to select the style of frame that will look best in your space.
Visit our Carmel, Monterey, or Placerville gallery today to experience these dazzling works of art for yourself.