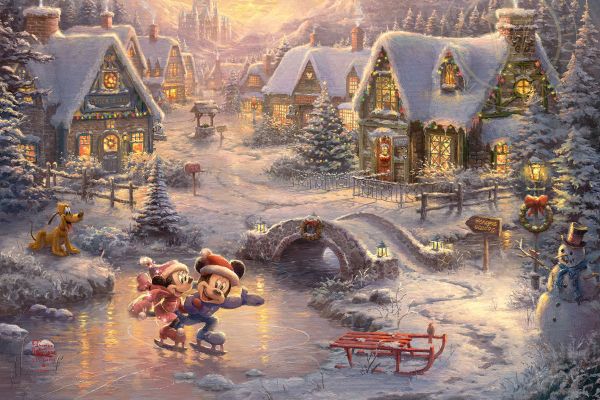 Christmas art compels you to sit a spell, snuggled up in a cozy sweater, and nurse a steaming cup of tea. It's the kind of art that brings on joy and introspection, and Minnie and Mickey Mouse paintings by Thomas Kinkade Studios fit the bill nicely. If this holiday season is filled with too much stress and too little joy, pour yourself a cup and enjoy five of these Mickey and Minnie-themed paintings.
Sweetheart Holiday
Candy Cane Express
Celebrating 90 years
An Evening Sleigh Ride
Christmas Lodging
1. Mickey and Minnie: Sweetheart Holiday
Once upon a time, people ice skated on frozen ponds as twilight sparkled on the horizon. Sweetheart Holiday captures the romantic, freewheeling feelings that come with this kind of innocent fun. Details include plenty of glowing snow, merry holiday lights, and the stony bridges that Kinkade paintings are known for.
2. Mickey and Minnie Candy Cane Express
There's just something about snowy train rides through the mountains that make Christmas feel like Christmas. Maybe it's because, these days, so few people travel by train anymore and have forgotten the magic that comes with this kind of holiday adventure. But those who are lucky enough to be aboard the Candy Cane Express with Mickey and Minnie get to recapture those nostalgic feelings once more in this piece of Disney wall art. It expresses the kind of sentiment that makes getting Disney gifts at Christmas so much fun!
3. 90 Years of Mickey
In the painting 90 Years of Mickey, we're reminded why sometimes spending a cozy evening at the movies is the best way to ward off the winter chills. This piece of Disney wall art captures the moment in time when the worldwide iconic mouse was born. Fun details include his first film, Steamboat Willie, on the silver screen, plenty of Disney friends, like Goofy and Donald and Daisy Duck, and lots of brilliant brush strokes.
4. Mickey And Minnie Evening Sleigh Ride
This one is pretty much straight out of "Jingle Bells." It features Minnie and Mickey on a sweet moonlit sleigh ride under a snowy sky. The moon reflects on the ponds below as the two go over a snow-covered bridge. The details in this painting are just the kind that fans of Christmas art love.
Cozy Cottages
Wreath-Adorned Lampposts
A Happy Snowman To Welcome You Home
5. Mickey And Minnie Christmas Lodge
The painting Mickey and Minnie Christmas Lodge sets viewers on a journey of reverie and wonder. In this piece of Christmas art, the faces of Mickey and his friends reflect the joyous glow of the campfire as it lights up a snowy Christmas night. Sweet details include Minnie and Mickey's kids making snow angels on the ground, Mickey and Minnie snuggling up with their cups of cocoa, and Pluto building a snowman. These images will transport you back to earlier, more joyous times and remind you why giving (or receiving) Disney gifts is so much fun!
Contact Thomas Kinkade Studios In CA For Mickey Mouse Mouse Paintings
If you'd like to celebrate the wonder of the Christmas season with the whimsical fun of Mickey Mouse paintings, talk to Thomas Kinkade art consultant in one of 3 of our galleries in Carmel, Monterey, & Placerville!