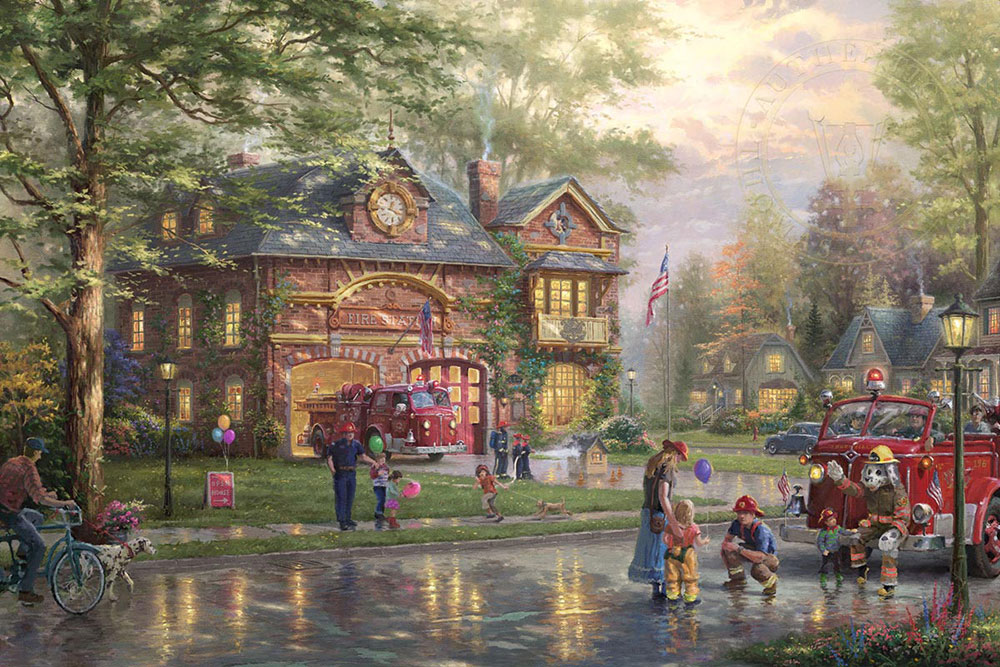 Bring back memories of "the good old days" as you wander through the assortment of classic American artwork at Thomas Kinkade in Carmel, Monterey & Placerville, CA.
There's no nostalgia like an appreciation for Americana through fine art.
Classic American = Variation
When we think of classic American art and what that encompasses, the subject matter varies greatly.  One mind will think about the world of Disney, another will catch baseball fever, and yet another will be fly fishing in a mountain stream.
Fortunately, our Thomas Kinkade galleries have something for everyone.
Historical American Wall Art
Becoming a free nation, as we know it today, all started in New England at the harbor. Our New England Harbor painting on canvas is just one of the scenes depicting historical places in America that we have available.
We also have those ideal townscapes of times past. Children play with firemen in Hometown Firehouse. An old blue tractor sleeps down on the farm in Summer's Heritage. Quiet homes display their flags out front in Hometown Pride.
Classic American artwork sure makes an impression.
Disney & Classic America
Our Disney canvas art is breathtakingly alive with your favorite childhood characters so gracefully incorporated into each scene. Mickey and Minnie, Dumbo, The Aristocats, and Lady and the Tramp are just a few of the colorful characters depicted in these paintings that remind us of classical America.
Americas Past Times
Cars and classic cars are some of the great past times we associate with classical American artwork. What about baseball? Our gallery has NASCAR and baseball paintings to bring the past of the hobbies that you love home.
We Love Our Superheroes
Everyone has a favorite superhero. Super Man, Wonder Woman and many of your other favorite classic American superheroes can be found in our fine art collection. The characters you grew come alive in these paintings.
What a great gift to give a loved one or even yourself.
Find What Makes America Classic To You
Our Thomas Kinkade galleries in Carmel, Monterey, and Placerville are the places to be when looking for classic American home decor.  We look forward to helping you find fine art that says America to you. Stop by or contact us with your questions today.