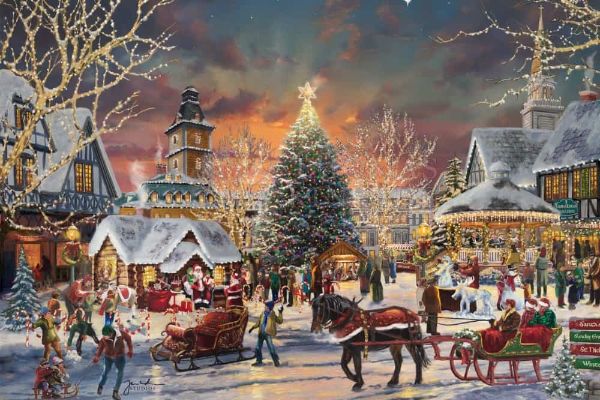 Christmas is just around the corner and may be searching for tree paintings to complete your holiday décor. Thomas Kinkade Studios has just released the latest additions to our Christmas Tree collection. Which one belongs in your living or dining room?
The Christmas Festival
Highlight your gathering when you add The Christmas Festival to your personal holiday art collection. The piece glows with excitement as the entire village gathers to sip hot cocoa, meet Santa, and sing some carols.
Every one of the Christmas Tree collections offers additional Estate Edition features.
Special hand-drawn sketch on the back of the canvas.
Limited edition numbers
Silver Signature
Unique textured brushstrokes
More of the iconic Thomas Kinkade Studios highlighting
ELF
Did you see them? Santa and his reindeer fly overhead as shoppers stroll through the city streets below. The Elf is jumping for joy surrounded by Christmas trees and giant candy canes! Bring back the exuberance of your youth when you hang this painting on your child's bedroom wall.
Santa's Silent Night
Nobody is on the roads except for that red sleigh in Santa's Silent Night. Every door and window in town is aglow with excitement as Santa prepares to slide down the chimney. Yes, the trees are blanketed in snow as the full moon adds its own brilliance to Christmas Eve. It's the perfect piece to complete your mantel afestival
fter the kids all hang their stockings.
Christmas At Lamplight Village
The entire town came together to deck out every roof, porch, and tree with flickering lights. Even the sky casts its own spotlight on the village celebration as the sun sets. The perfect gift for your budding figure skater or a beautiful reminder of your own visits to the Christmas Tree lot. Add Christmas at Lamplight Village to your special annual holiday decor.
Disney Cinderella Bringing Home The Tree
Celebrate your first Christmas together as Prince Charming lifts Cinderella from the sleigh. The fairy godmother prepared her cottage to welcome the huge tree that the newlyweds found in the woods. Magic, love, and a feeling of celebration are highlighted by the classic Thomas Kinkade Studios' use of light and color. Disney Cinderella Bringing Home the Tree will be the finishing touch to your themed decor.
Make It Your Own Christmas Tree Painting Today
It's easy to bring home one of these special Thomas Kinkade Studios paintings. Give us a call or see for yourself when you visit one of our galleries in Monterey, Carmel, or Placerville today