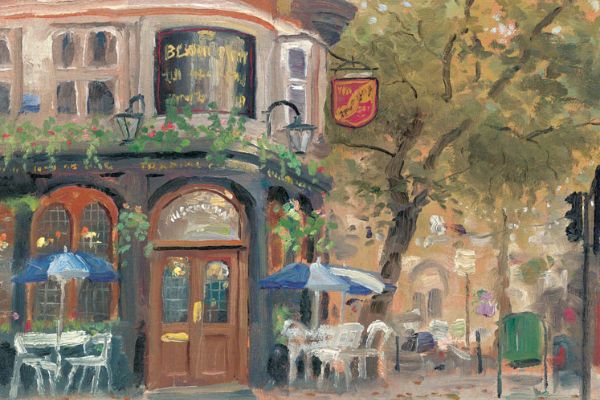 Paintings of cafes invite the viewer to slow down and enjoy a leisurely cup of their favorite brew.
Even if you've only got time for a 5-minute mental break, café paintings remind you to take a moment to breathe and enjoy a beautiful setting.


You can hang these paintings in the following spaces in your work environment:
At The Coffee Station
In The Kitchen
In The Break Room
In A Conference Room
In A Phone Room
In The Mailroom
These paintings from Thomas Kinkade Studios make great office art, capturing charming moments in exotic and familiar cities. So, choose a prominent spot in your home or work office where you can fully appreciate the painter of light's iconic style.
Chinatown, San Francisco
Chunky brushstrokes capture the muted sidewalk scene outside the Far East Café in Chinatown. The antiquated street lights and bustling crowd fade into the background as this café painting distills the scene down to its bare essence. It's brilliant lights and wet streets beckon you to step inside for warmth and comfort. Hang this scene before your desk so you can rest your eyes and relax between meetings.
Summer Café Paintings
From Germany to France to Italy, many countries host unforgettable cafes. Even if you've never been there, the French Riveria Café perfectly captures the colorful spirit of Europe's most exclusive holiday destination. Hang this spectacular waterside scene in the lobby to delight guests and coworkers alike. This and other paintings of European cafes capture the exuberance of a summer day for year-round enjoyment.
Bloomsbury Café
Featuring a WWII-era public house in London, this painting lends quiet dignity to your work area. Place it in the conference room or in your corner office to lend gravity and allure to the space. Bloomsbury Café invites quiet reflection and thoughtful commentary during meetings and work sessions. A swaying tree and other greenery soften the scene.
Venetian Café
The Venetian Café features a quintessential view of Venice. With St. Mark's Basilica in the background and golden sunlight dappling the canals, this painting immediately captivates any viewer. An empty gondola waits for you to explore the fairytale city built directly on the water. Hang this inspiring picture in the break room to restore tired minds and bodies.
Paris, City Of Love
Thomas Kinkade loved the magic and romance of the City of Light. This panoramic scene captures the Seine, Parisian rooftops and spires, and, in the background, the stunning Eiffel Tower. Place this painting inside or outside your office to impress customers and business partners.
Italian Café
Where can you hang this densely packed picture to the best effect in your office? Painted in vibrant hues, this is one of the best paintings of European cafes in the Thomas Kinkade Studios collection. This lovely Sicilian village attracts beach lovers and couples, and the painting features these highlights:
A black and white cat lounges in an upper-story window next to exposed brickwork, boot-shaped like the Italian peninsula.
Bright lilies, Italy's national flower, brighten the corner of the canvas as a cat strolls idly across the cobbled street.
An artist is intent on his work in the café, inspiring your creative soul.
Paintings Of Cafes Make Great Office Art
Choose from many café paintings available from Thomas Kinkade Carmel, Monterey, and Placerville. You can travel around the world without leaving your desk. Contact us today to place your order or for assistance in choosing the right spots around the place to hang your paintings.