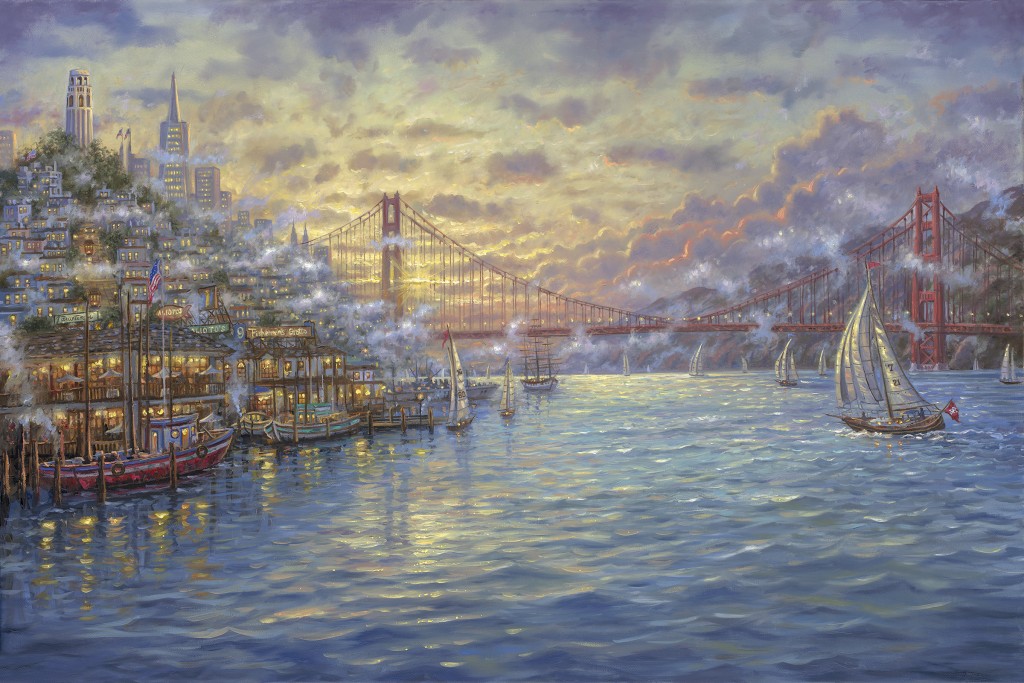 When you come into one of our Thomas Kinkade California galleries, you'll discover a beautiful selection of San Francisco paintings. Known as the Painter of Light™, Thomas Kinkade paints each San Francisco scene with a stunning display of warmth and color. Not only will these delightful paintings dazzle you, but they will capture your heart.
Art With Heart
Thomas Kinkade masterfully captures the heart and charm of San Francisco's most iconic landscapes. Light and color dot busy San Francisco streets. Waves splash gently on the bay. This city comes alive in Thomas Kinkade's San Francisco art collection.
Stunning Paintings Of The Bay Area
Take a stroll along the colorful, flower-lined streets in the painting, San Francisco, Lombard Street. Go back in time among the nostalgic cable cars in City by Bay.  If you want to bring a bit of the seascape into your home, you'll love Fisherman's Wharf, Marina. Other paintings in the San Francisco collection include:
Limited Edition Art
San Francisco Limited Edition paintings make a wonderful addition to any home or office. Because of the high-quality of the finished product, each painting is designed to last for generations. So, they make a wonderful keepsake. Consider a Limited Edition painting or print for your next gift giving opportunity.
Take A Piece of Northern California Home Today
When you visit our Thomas Kinkade California gallery, we will help you with everything from choosing the perfect painting to hang on your wall, to selecting just the right frame. We even offer 6-month and 12-month same-as-cash options with approved credit. Come visit us today and choose the perfect San Francisco painting for your home.