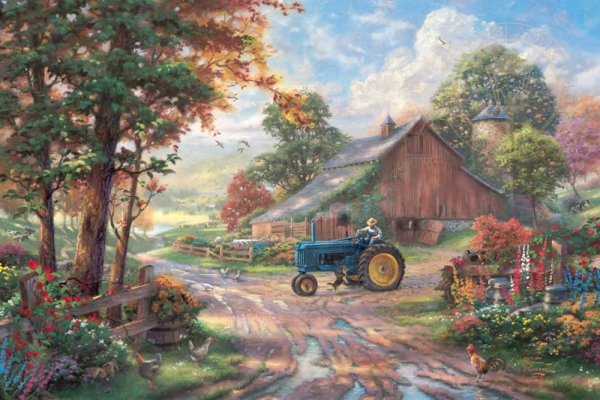 Rustic farmhouse home decor is still all the rage. The best of living simple meshes well with florals, minimalism, and everything cowboy or cowgirl. Whether you go farmhouse chic or full-on rustic country cabin, once you have your paint in place and furniture purchased, it's time to think about wall art.
We have you covered with barn paintings for farmhouse decorating.
Red Barn Retreat
In Red Barn Retreat, a sweet little cottage backs a big, bright red barn. The farmyard overlooked by glowing windows houses horses and cows, while down the dirt road, a curious rooster looks on as a family of ducks paddles about in the nearby pond.
A sun-dappled dirt road and pops of florals make this quaint scene a great accent to your farmhouse kitchen or dining room. Or complete a gallery wall with both this painting and Sunset at Riverbend Farm.
Deep in the Heart II: Kentucky Bluegrass
If you're looking for a painting all about family life on the farm, Deep in the Heart II: Kentucky Bluegrass has the kids, the dog, and the cat roaming free among a family of horses. Deep In The Heart is an excellent complement as a calf wrangling cowboy is welcomed home from a long day on the range.
Hang this farmhouse art in the living room, family room, or an entryway in need of color. Grandkids and guests alike will enjoy spotting the herd on high and tiny fluttering butterflies hidden in this wall art.
Summer's Heritage
Don't skip the home office or man cave in your farmhouse decorating. Summer's Heritage is a perfect complement to a room with a little bit of a laid-back vibe. Reminisce on life growing up on the farm, or daydream on that country getaway you'll retire to someday. Wall art makes either escape just a glance away.
Shop Barn Paintings In California
Make a statement with Thomas Kinkade barn paintings to compliment your farmhouse decorating style. Visit our galleries in Placerville, Monterey, or Carmel, CA today to browse and shop with us.