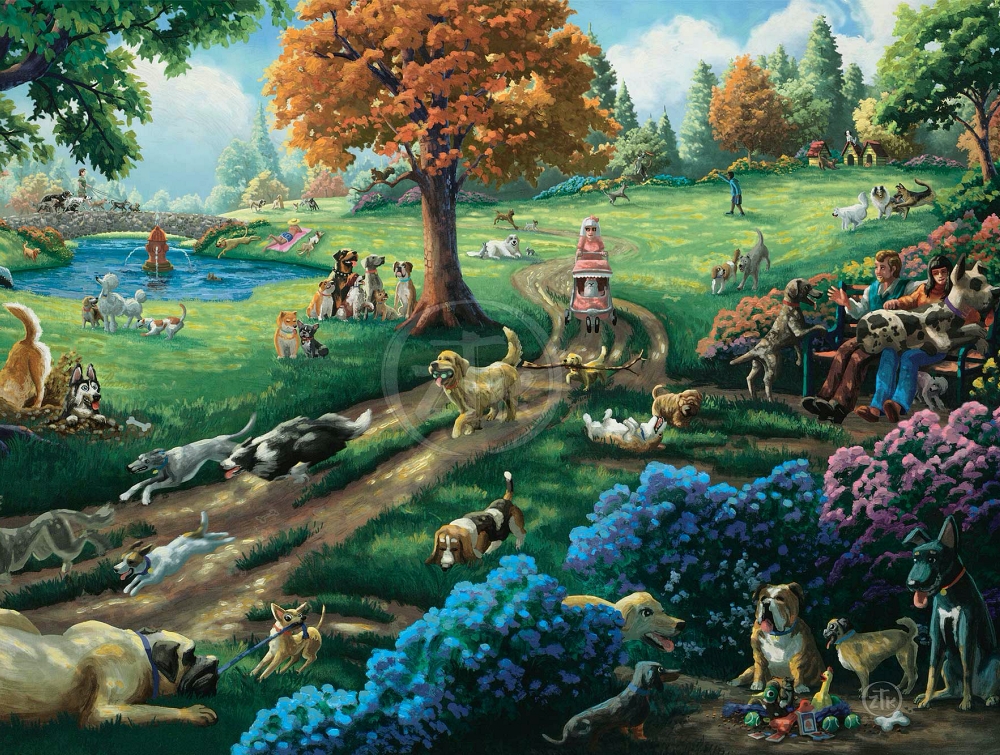 Art Notes
It is often said that dogs are "man's best friend," and there are times, at least, when I would be hard-pressed to argue against the sentiment. I grew up with pet dogs, and each was a lovable member of my home and family. Buster, a Great Pyrenees, was my first, and he truly was a gentle giant. Buster used to lay on the lawn while wild rabbits hopped around him. He seemed to enjoy their company. Then came Apollo, a golden lab and Shetland pony mix, who also was a canine wrecking machine. He once ate the windows in my house, trying to get outside to look at a wayward bird. To say the least, my father was not pleased.
Now I have Keanu, a Siberian whose major goal in life is to play anything with anyone at any time, and my brother lives with Poe, the pug. This small pooch has a large character and is a small celebrity in collector circles as his face is unforgettable. He also makes routine guest appearances in my published paintings.
Poe's Park is an homage to all of our four-legged barking companions. Though often into trouble, it is hard to imagine a truer heart than in our furry best friends. Look carefully or miss some fun tributes to our favorite canines. And, as always, I want to thank you for sharing my adventures in art.
Key Points
Poe's Park is the first release in Zac Kinkade's Playful Pets Collection, a series that celebrates furry and feathered friends.
Tributes to Zac's dog, Poe, have been included in some of his previous Limited Edition Art releases, including Heaven and Transylvania.
Nods to funny dog antics are included in Poe's Park, including a pup rolling in the mud while his pal looks on and a group of dogs digging holes.
Dogs and their owners are portrayed enjoying the park together. Can you find the owner walking her dog in a carriage and a dog lying out in the sun with her owner?
A fire hydrant fountain is the centerpiece of the pond in Poe's Park.
Can you spot the dog perched on top of a dog house?
Copyright: © 2020 Art Brand Studios, LLC. All rights reserved.
Title Poe's Park
Published October 2020
Collection Playful Pets