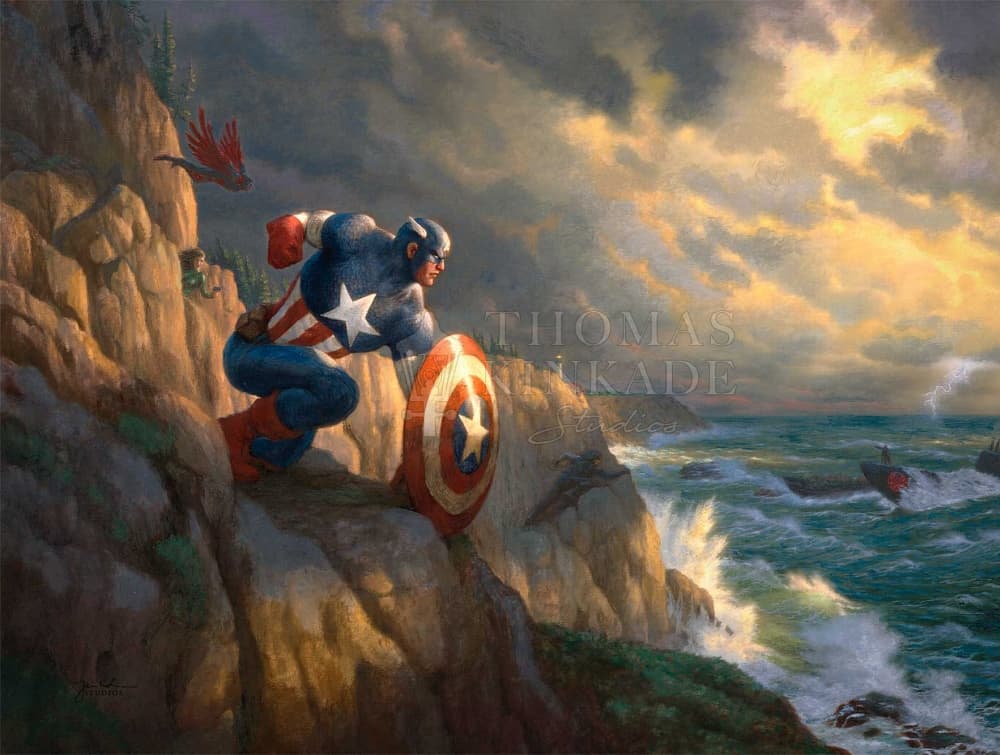 Art Notes
Lighthouses have stood along the coasts to protect sailing ships from the dangers of the rocky shores. The Avengers are Earth's heroes that stand as the first line of defense against the powerful threats in the universe, and Captain America is our untiring sentinel of liberty.
On the shore's rocky outcrop, Captain America has positioned himself ready to battle Red Skull and his Hydra henchmen, who are approaching the coast in submarines. Viper has emerged from her rocky hiding place to surprise our hero and aid Red Skull in making landfall. Unbeknownst to Viper, Falcon has taken wing to assist Captain America in thwarting Red Skull's attack. The mysterious Winter Soldier stealthily clings to the cliff, ready to strike their shared enemy. Thomas Kinkade Studios proudly presents its new Marvel Comics collaboration Captain America – Sentinel of Liberty.
Key Points
Captain America is the fifth Limited Edition Art release in the Marvel Collection by Thomas Kinkade Studios. The previous four titles include Spider-man vs. the Sinister Six, Black Panther, The Avengers, and Captain Marvel – Dawn of a New Day.
Did you know Captain America's birthday is the Fourth of July?
Falcon (Samuel Thomas Wilson), along with Black Panther, is among the first group of African-American super heroes in mainstream comics. He was introduced by Stan Lee and Gene Colan in Captain America #117 (September 1969).
Created by Joe Simon and Jack Kirby and introduced to comic book fans in Captain America Comics #1 (March 1941), Red Skull became one of Earth's most dangerous threats and one of Captain America's greatest enemies.
Viper, also known as Madame Hydra, joined the subversive organization as one of its first few female agents.
Steve Rogers' childhood friend and Captain America's original sidekick Bucky Barnes, was brainwashed into becoming an assassin, the Winter Soldier, who eventually targeted and killed Red Skull under the orders of Soviet General Aleksander Lukin.
The coastal setting of this painting, including the lighthouse in the background, is an iconic part of traditional Thomas Kinkade Studios Seascapes. However, the seas in this painting are anything but tranquil, a problem that Captain America will soon remedy.
Copyright: MARVEL Elements © 2020 MARVEL. 
© The Thomas Kinkade Estate. All Rights Reserved. Art Brand Studios.
Title Captain America – Sentinel of Liberty
Published December 2020
Collection Marvel Collection