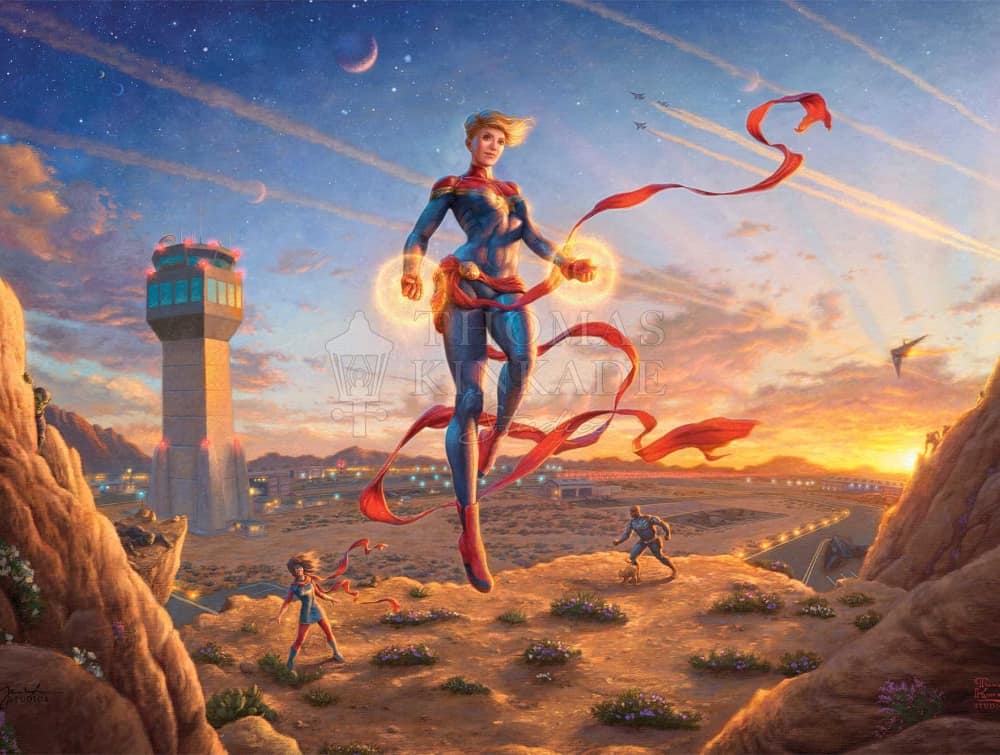 Art Notes
The morning sun dawns on a new day amplifying the glowing power emanating from Captain Marvel's hands as she watches over the desert base. The flight patterns of the jets leave illuminated contrails in the morning sky. Ms. Marvel, Kamala Khan, stands at the ready to join her hero, Captain Marvel, to battle any enemy, who may try something untoward. As their red sashes flow gracefully in the desert breeze, Goose the Cat rubs the leg of Nick Fury who has sensed a potential danger. Is that Skrulls we see, or is it Kree, or maybe both! Our hero, Captain Marvel, is at the ready.
Thomas Kinkade Studios proudly presents its Marvel Comics collaboration, Captain Marvel – Dawn of a New Day.
Key Points
Captain Marvel – Dawn of a New Day is the fourth Limited Edition Art release in the Marvel Collection by Thomas Kinkade Studios. Previous titles in the series include Spider-man vs. the Sinister Six, Black Panther, and The Avengers.
Captain Marvel, Carol Danvers, is a United States Air Force fighter pilot. Carol Danvers was created by Roy Thomas and Gene Colan, first appearing in Marvel Super-Heroes #13 in 1968. She became the first Ms. Marvel in 1977 and assumed the mantel of Captain Marvel in 2012.
Ms. Marvel, Kamala Khan, was introduced in the 2013 comic book Captain Marvel #14. Amongst her many superpowers, she can extend her limbs and alter her appearance by shifting shape.
Nick Fury was created by Jack Kirby and Stan Lee in the 1963 comic book Sgt. Fury and his Howling Commandos #1 and fought alongside Captain America in World War II.
Can you find the Skrulls and Kree hiding in this painting, ready to strike? Stan Lee and Jack Kirby also created both species.
Copyright: MARVEL Elements © 2020 MARVEL. 
© The Thomas Kinkade Estate. All Rights Reserved. Art Brand Studios.
Title Captain Marvel – Dawn of a New Day
Published December 2020
Collection Marvel Collection