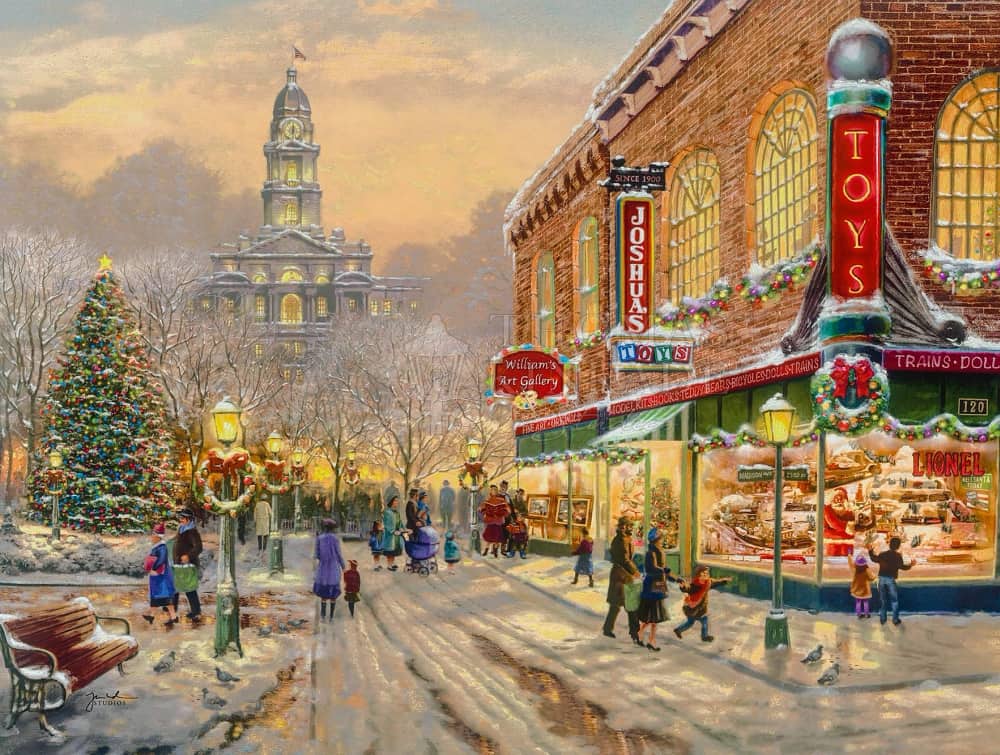 Art Notes
Every year children around the world make their Christmas wish lists for Santa. A visit to the local toy store can inspire and fuel their imaginations and spark creativity. People, young and old, are drawn to the display windows of toy stores, and are especially captivated by the movement of the train displays. Lionel Trains has been bringing this joy, innovation, and wonderment to children and adults for 12 incredible decades.
Thomas Kinkade Studios presents A Christmas Wish, our collaboration with Lionel Trains in celebration of their 120th Anniversary, which includes a very special tribute to Joshua Lionel Cowen, Founder of Lionel Trains. His beloved and highly collected trains are featured in the main display corner window at Joshua's Toy Store. Thomas Kinkade Studios is proud to partner with Lionel Trains to create lasting memories for our collectors and their families, in hopes that every Christmas wish comes true.
A Christmas Wish Key Points
Madison Hardware opened in 1909, and is known as the earliest NYC Lionel Dealer. This iconic store is located at the Madison and 23rd, the cross-streets shown in this painting.
A Christmas Wish also pays tribute to our founder, Thomas Kinkade, with the naming of the art gallery "William's Art Gallery". Thom's full given name is William Thomas Kinkade III.
A Christmas Wish is the third Limited Edition Art release created in partnership with Lionel Trains. The previous two collaborations are All Aboard for Christmas and Santa's Special Delivery, which are on display in the window of "William's Art Gallery".
The streets of A Christmas Wish are lined with light posts decorated with festive wreaths, a hallmark of classic Thomas Kinkade Studios Christmas paintings.
Key Facts About Lionel Trains
Lionel's founder last name was actually Joshua Lionel Cohen, but in 1910 legally changed it to Joshua Lionel Cowen for unknown reasons.
In 1953, Lionel was the Largest Toy Manufacturer in the WORLD!
In 1999, A&E produced an hour-long show going over the Top 10 Toys of the 20th Century. Lionel Trains was the number four spot only getting beat by Yoyo, Crayons, and Barbie.
Lionel Trains was inducted into the Toy Hall of Fame in 2006.
Copyright: © Lionel, LLC. © The Thomas Kinkade Estate. All rights reserved.
Title A Christmas Wish
Published October 2020