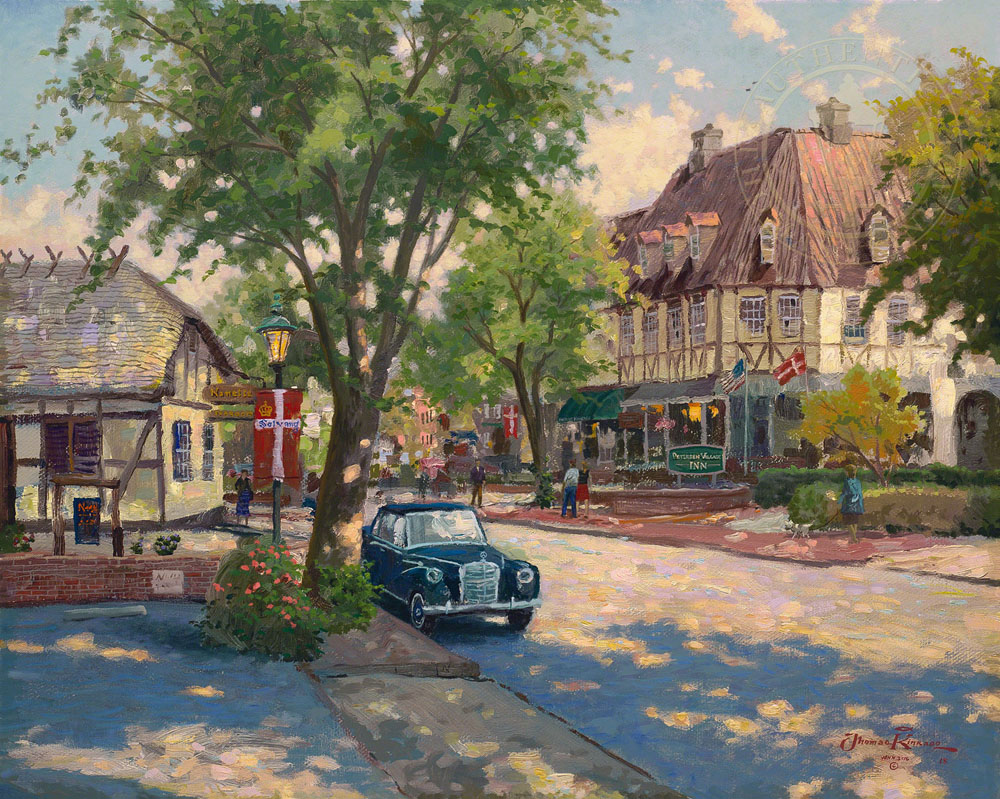 When choosing art for senior spaces, there's no substitution for the quality you get with a beautiful painting from the Thomas Kinkade galleries of Carmel, Monterey, and Placerville, California. Our selection of fine art makes senior-friendly decor a soothing and luxurious experience. Create the environment you want, or make a statement, with a little help from Thomas Kinkade.
Senior Living Decor
Options from our Monterey Bay art gallery suit a variety of decor styles. From beautiful landscapes and retro cityscapes to hometown and patriotic pride, we have the perfect canvas art for you. Enhance the ambiance and comfort of any area with quality art for senior living, shopping, and recreation areas.
Serving Your Seniors
Senior citizens enjoying their twilight years may start to experience some physical limitations. Making senior spaces as friendly and inviting as possible is a compassionate step anyone can take for those with limited mobility. An easy way to do this is by displaying paintings on canvas that increases quality of life and honors the memories and nostalgia of bygone days in places where seniors visit the most.
Assisted Living Facilities
Senior Apartments
Senior Centers
Libraries
Medical Offices
Waiting Rooms
VA Offices
Bookstores & Cafes
Warm Cottages & Pristine Gardens
Warmth glows from within quaint cottages nestled among sprawling flowers and greenery in our paintings of cottages and gardens. Invite flights of introspection and imagination with these sweet hideaways and lively lush landscapes.
Peaceful Retreats
Images of the seaside, countryside, and familiar California landscapes can bring a feeling of familiarity and serenity to waiting rooms and places where seniors gather to relax. If you offer services like therapy, meditation, or yoga to retired seniors, choosing art that reflects calm in an increasingly noisy and busy world can support your practice.
Nostalgia & Simpler Times
Who doesn't like to reminisce about how things were "back in the day," when times were simpler, and life made more sense. We carry wall art depicting California and other famous places during the "good old days." Many of our paintings also capture the hometown vibe many seniors grew up with and miss. Bring a little bit of yesterday into modern spaces with fine art.
Patriotic Pride
Everybody has a story to tell, and who more than our military veterans? VA centers and retirement homes are filled with patriotism and are a gathering place for heroes and freedom fighters. Invite conversation and show honor and respect with our patriotic art. Paintings of the flag, the Statue of Liberty, and service members in action are available in our California galleries.
Your California Source For Wall Decor
Help make your senior spaces a haven that feels safe, inclusive, and respectful with artwork and decor. Stop by a Thomas Kinkade gallery in Carmel, Monterey, or Placerville today to see the options available. We look forward to helping you add a little personality and peace to your senior environments.