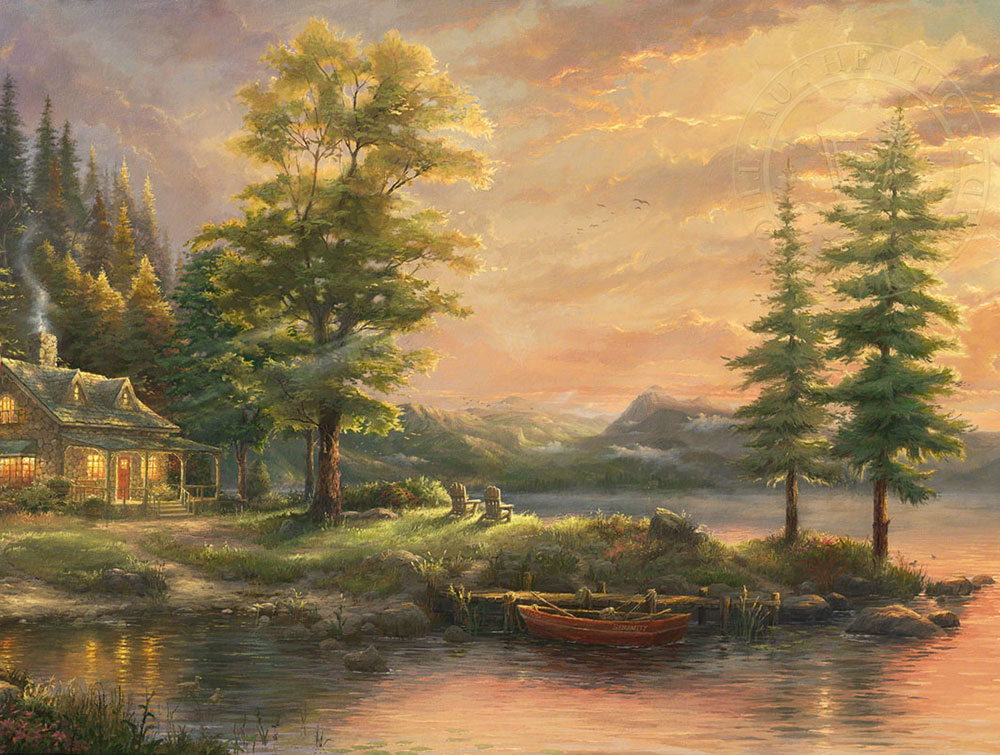 You'll find a great selection of art for cabins and vacation homes at Thomas Kinkade Carmel, Monterey, and Placerville. Thomas Kinkade masterfully depicts the beauty and wonder of nature's stunning scenery. From the red rock desert landscape of Zion National Park to the snow covered mountains of Olympic Mountain to palm trees swaying beneath the sun-kissed twilight, a piece of Thomas Kinkade lodge art would make a beautiful addition to any cabin decor.
Peaceful Retreats
Does relaxing in a cozy cabin next to a tranquil lake or gurgling stream sound like the perfect getaway? With a Thomas Kinkade cabin painting, you can enjoy that beautiful scenery in your own cabin or vacation home year-round.
You'll truly believe you're in paradise as you gaze upon Kinkade's painting Nature's Paradise. You can almost imagine yourself inside the quaint log cabin with fishing, trails, and abundant wildlife right at your doorstep. In another of Kinkaids cabin paintings, Evening at Autumn Lake, you'll experience the crisp autumn forests and the peaceful lake as you gaze upon the cozy stone cabin it depicts.
Thomas Kinkade once said, "My mission as an artist is to capture those special moments in life adorned with beauty and light." These stunning cabin paintings are certainly adorned with beauty and light. Here are just a few pieces of rustic wall decor that you might enjoy:
Majestic Mountain Escapes
You don't have to hike miles of trails to enjoy the grandeur of mountain peaks. With a Thomas Kinkade mountain painting, you can enjoy them in the comfort of your own home or cabin. One of these mountain paintings would look striking on any wall:
Desert Landscapes For Your Lodge
A stark contrast to the mountain retreats, a desert landscape has a beauty of its own. With vibrant red rock peaks towering over the valley below, the desert scenery is certainly awe-inspiring. When you visit our Kinkade gallery, we will help you select the perfect desert landscape art for your vacation home. A few paintings you might enjoy include these National Park scenes:
The Kinkade Gallery Experience
Come and visit our California Thomas Kinkade art gallery in Carmel, Monterey, and Placerville to experience these vibrant landscapes in person. Our friendly art consultants will show you a selection of art that would make a great addition to your vacation home. They will also help you with everything from choosing the right size, to selecting a complimentary frame, as well as lighting options. Online ordering is also available for your convenience.
Stop by today and purchase your own piece of cabin or vacation home art.