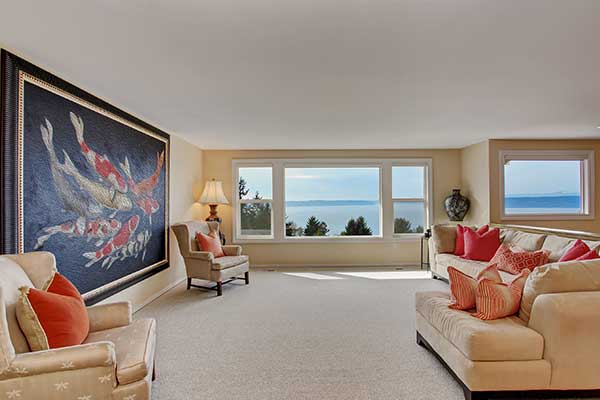 When you begin your home art collection, your home choices in decor might feature smaller pieces. Eventually, however, the large paintings you see at your favorite gallery will get you wondering, "Can I pull off large wall art at home or in my office?"
The answer is yes, you can! Before investing in bigger paintings or photography, there will be some factors to consider. We've put together five tips to help you choose what to hang and where to hang your art.
Styling Tips For Oversized Art
Choose A Statement Piece Style
Orientation Matters
Some Rooms Are Better Than Others
Think About Height Before Hanging
Chat With Your Gallery's Art Consultants
What Style Works Best For Statement Piece Art?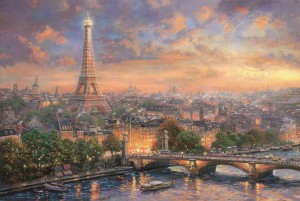 You'll want to think about the feeling and palette of a potential purchase. How well will this painting accent your existing decor? Abstracts aren't the only style that works well in larger-than-life sizes. Landscapes come in various themes, styles, and subjects, for example.
Explore these three paintings of Paris to see for yourself.
Where Should You Hang A Larger-Sized Painting?
Giant artwork makes a big impression. Some walls lend themselves naturally to larger art pieces. If you choose a home for your new painting in a place where people gather, you have an automatic conversation piece in a size no one is likely to miss.
On An Entryway Wall
In The Living Room Above The Couch
In The Bedroom Above A Bed
Above A Fireplace Mantel
Horizontal Vs. Vertical Paintings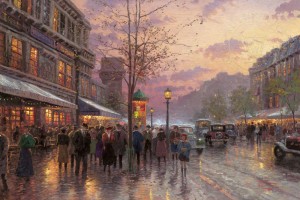 Tall ceilings lend themselves more to vertical pieces that draw the eye upward when hanging oversized art. On the other hand, if you have low ceilings and a long, blank, horizontal wall, horizontal wall art may be a better fit.
You can likely imagine the paintings of Montmartre and Luxembourg Gardens on display in the same home. Still, as you can imagine, each image will require a different orientation of available space.
Think About Height Before Hanging Oversized Art
Bigger paintings can be a significant investment. Protecting that investment can start with something as simple as ground clearance. A floor-to-ceiling botanical masterpiece may look beautiful and impactful, but it won't stay that way if you have small children, curious pets, or hang it in a high-traffic area in your home.
Chat With Your Gallery's Art Consultants
Whether you stop by and see us in Placerville, visit our art gallery in Monterey, or purchase at our Carmel art gallery, each location will have one essential feature in common – friendly, knowledgeable art consultants. These individuals want you to get the most out of each painting, no matter the size.
If you are investing in larger paintings, chat with your gallery's Art Consultants while you're there. They can help you find and choose the right piece and then counsel you on proper hanging, lighting, and preservation techniques.
Shop Limited Edition Large Paintings In California
At the fine art galleries of Thomas Kinkade in Carmel, Monterey, and Placerville, California, we carry Limited Edition paintings in various themes, orientations, and sizes. Stop by and fall in love with your next favorite large art piece today.