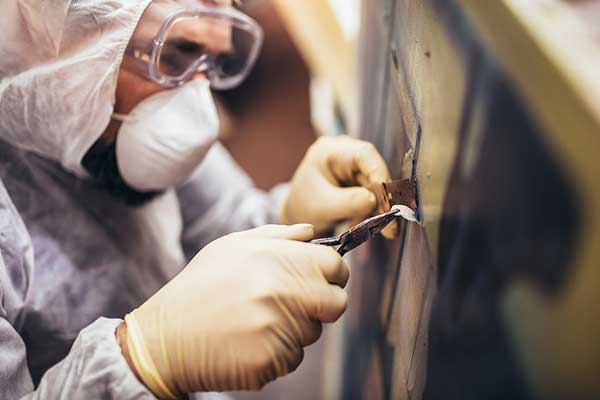 Chipped ceramic, ripped canvas, cracked frames – what do you do when the masterpiece you've been waiting to add to your collection arrives at its destination in less than perfect condition? It can be tempting to give in to your emotions, and it is entirely understandable to feel disappointed, but what then?
At the fine art galleries of Thomas Kinkade in Placerville, Monterey, and Carmel, California, we've put together a few tips to help you protect yourself and the investment you put into your art collection.
Refuse Delivery If The Packaging Shows Damage
Photograph All Artwork BEFORE Unwrapping It
Document & Photograph Each Blemish
Document & Keep All Packing Materials
Contact The Fine Art Gallery Or Seller ASAP
Update Your Condition Report
Make Sure This Doesn't Happen Again
Refuse Delivery If The Packaging Shows Damage
"Two art handlers wearing gloves and sober expressions strode over to a table; on it, pliers, tape measures, and an electric screwdriver had been placed with a precision that would not have been out of place in an operating theatre… the visiting curator – who had accompanied the painting on its journey – gave the handlers sotto voce instructions." – Andrew Dickinson, How To Move A Masterpiece.
As much as we'd love to have each beloved painting or carefully carved sculpture hand-delivered and displayed in our homes by white-gloved "handlers," most of us will receive traditional art shipping from a fine art gallery. In some cases, the first indication that something is wrong with the contents will appear on the outside of the container.
If possible, refuse delivery on artwork that arrives in beat-up packaging.
Photograph All Artwork BEFORE Unwrapping It
If the art damage is due to improper handling or packaging on the gallery staff, seller, or artist's behalf, you might not see it until the item is actually unwrapped. Before you start in with box cutters and strip away the cardboard and plastic wrap, get out your phone and document everything.
Take notes and photographs before you start and throughout the process.
Document & Photograph Each Blemish
You might cry if there is art damage. Go for it, but then grab a ruler and photograph each blemish you see with the ruler in the photo showing how large each crack, chip, or tear is. If the damage has been done to the texture or materials the art was created with, paint, for example, take multiple pictures from different angles to provide a clear view.
Document & Keep All Packing Materials
Why keep that cardboard, paper, or bubble wrap, you ask? Because not all packing materials and methods are compatible with fine art. Some painting damages or frame accidents occur because inappropriate materials were used, or the shipper included too little support.
You want to have proof that your artwork was damaged in transit due to negligence or ignorance. So, document it and keep it until you either have a replacement, restoration, or refund in your hands.
Contact The Fine Art Gallery Or Seller ASAP
Whether you've refused delivery or already opened your art purchase, you'll want to contact the art gallery, seller, or artist (whoever shipped you the piece) as soon as possible. Get in touch and get them all the documentation you have of each new flaw.
You will usually have three options when dealing with damaged artwork.
You return the art and get a full refund.
The artwork is replaced by the artist or gallery for one of equal value and aesthetic.
The piece is professionally restored.
Update Your Condition Report
If your artwork is damaged in transit, and you choose to have it repaired by a professional restoration company, it will not only take time but can potentially affect the piece's value. So, make sure to have your condition report updated to reflect this change.
Make Sure This Doesn't Happen Again
Why not skip the whole damage thing in the first place? A little forethought can go a long way and save you the draining process of trying to recoup your losses. You may feel like a demanding customer at first but think of the benefits you reap. You get to add a new, mint-condition painting to your collection and avoid hassles.
Protect artwork for shipping by choosing an experienced art shipping company.
Ask your seller how they pack your art for transportation, and how that protects the piece, and have them note this on your receipt.
Avoid artwork shipping disasters by ensuring each piece of artwork while in transit.
Buy Artwork From California – We Ship!
Whether your car is a tiny two-seater or you're browsing our online collection an ocean away, the Thomas Kinkade Galleries of California are happy to ship your art to you worldwide. Stop by and see us in Carmel, Monterey, or Placerville to place your order, or give us a call today.