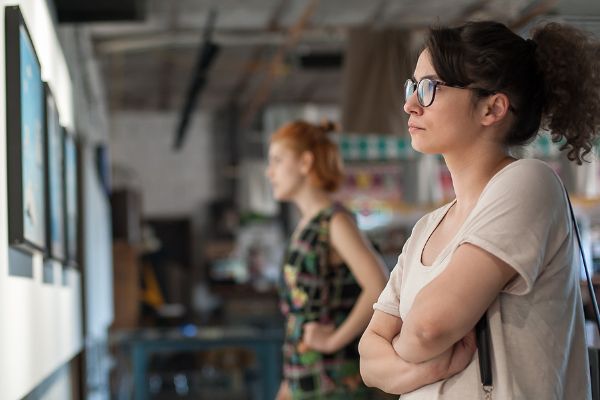 Art shows open a window of opportunity for art collectors and enthusiasts. All in one space, you can discuss your love of art and creations with knowledgeable curators and artists themselves. Whether you know what you want already, or are just browsing, you can always have a colorful and remarkable experience. Here's what to do if you want to prepare to take in an art show.
Plan Your Show Experience Ahead Of Time
Don't Rush Through The Exhibits
Ask Questions—Talk To Curators & Artists
Buy A Piece To Collect, Gift, Or Sell
Be Prepared For An Immersive Artistic Experience
Some art exhibitions can be small and intimate, while others are large and overwhelming, especially if they feature multiple artists or mixed mediums.
This type of event connects you to your people–the kinds of artists and creatives that you want to talk to about your love of their work. You can find pieces that speak to you at prices you love.
Research Featured Artists
Budget For A Big Purchase
Schedule Your Day Around The Event
Find Exclusive Works Of Art In Different Mediums
The wonderful thing about art shows is that there is something for everyone to love. Different types of shows might speak to different art collectors.
Solo Exhibition
Duo Exhibition
Group Exhibition
Institutional Exhibition
Some art shows might not have works for sale, but you might be able to speak to the artist in person. If you are unsure about what the event is for, make sure to call ahead and confirm with the organizers.
Got Questions? Ask The Artists Right There!
There's no right answer concerning how to shop for paintings, sculptures, or mixed media art. Should questions arise about the piece, the artist, or the overall demand for these works, don't hesitate to ask a curator. Sometimes, the artists will be at art exhibits to chat with enthusiasts. They can explain the work, and the medium used and even share what inspired them in its creation.
Bring Some Beauty Home To Display On Your Walls
What to do at an art show? Buy some, of course! Most art show installations offer pieces for sale so that you can enhance your home or office space with appealing pieces purchased from the show. Finding good paintings to add to your collection is best guided by researching and consulting with a curator. However, most importantly, make sure you like the piece and will be proud to display it or gift it to someone.
Find An Art Show Near You To Explore
Thomas Kinkade Studios in California has options available at our gallery from reputable artists worldwide and work closely with clients and those who showcase their art here. Learn more by contacting us today.