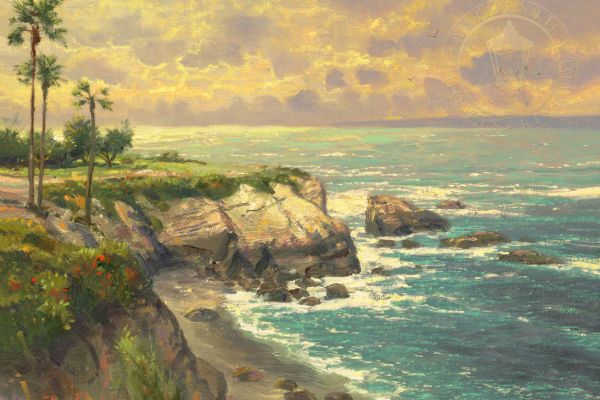 What makes a great landscape painting is probably more personal than you think. If you're an art collector looking at a potential landscape painting purchase, it's good to go in with a few of the basics under your belt and make your decision from there.
We have many landscape paintings in our galleries that feature amazing detail that transports you into an inviting world of:
Color
Lighting & Depth
Captures Or Escapes Everyday Life
Mood
Doesn't Feel Over Worked
Color In Landscape Paintings
Believe it or not, the world of landscapes can stray far beyond the usual greens and browns you find in nature. You are free to choose earthy forest paintings or a dusty brown desert scene, but make sure to consider creative uses of color that bring interest and joy to the art you collect.
Art That Represents Light & Depth Accurately
A painting on canvas can express texture and movement through thicker areas of medium or strategically placed brushstrokes, but a master landscape painter can imply depth through light. As you view the scene in front of you, do you see a flat piece of artwork, or are those mountains off in the distance, that farmhouse surrounded by the vastness of open fields, or that bridge stretching for miles? An evocative use of lighting makes still water move and fills trees with life.
A Canvas That Captures Or Escapes Everyday Life
Some landscapes can be so accurate that they are almost photorealistic. Others transport you to a place without one crisp line on the canvas. Do you enjoy artistry that replicates the natural world or a style that draws you in because it's not exactly anywhere, like a work that captures the New York-ness of New York or the Greece-ness of Greece without being too obvious?
Landscapes That Move You The Way You Want Them To
Color, light, and texture significantly affect the mood of a fine art landscape. A peaceful, joyful, or foreboding patch of woods can all depict the same geographic area with different hues and shades of paint. Think about where you will display this wall art. What mood would you like in this space? Let that guide you as you shop.
Fine Art That Doesn't Feel Like Work
Great paintings feel like they were brought to life, not like they've had the life tortured out of them. If the colors seem right, the lighting seems right, and you're pretty sure you usually like this particular style, the painting you're looking at may be too overworked.
Artwork That Evokes Comfort And Joy
At the galleries of Thomas Kinkade, you'll find painting after painting with new details that seem to stand out with every viewing, bringing that same feeling of pleasure you get when rereading a favorite book. Even our most detailed oceanscapes, mountainscapes, cityscapes, and forested retreats on canvas remain light and inviting.
Shop Landscape Paintings In California
Now that you know a little more about what makes a great landscape painting, we invite you to find Limited Edition fine art that speaks to you at our California art galleries. Stop by Thomas Kinkade Carmel, Monterey, or Placerville today to browse or contact us to place your order.