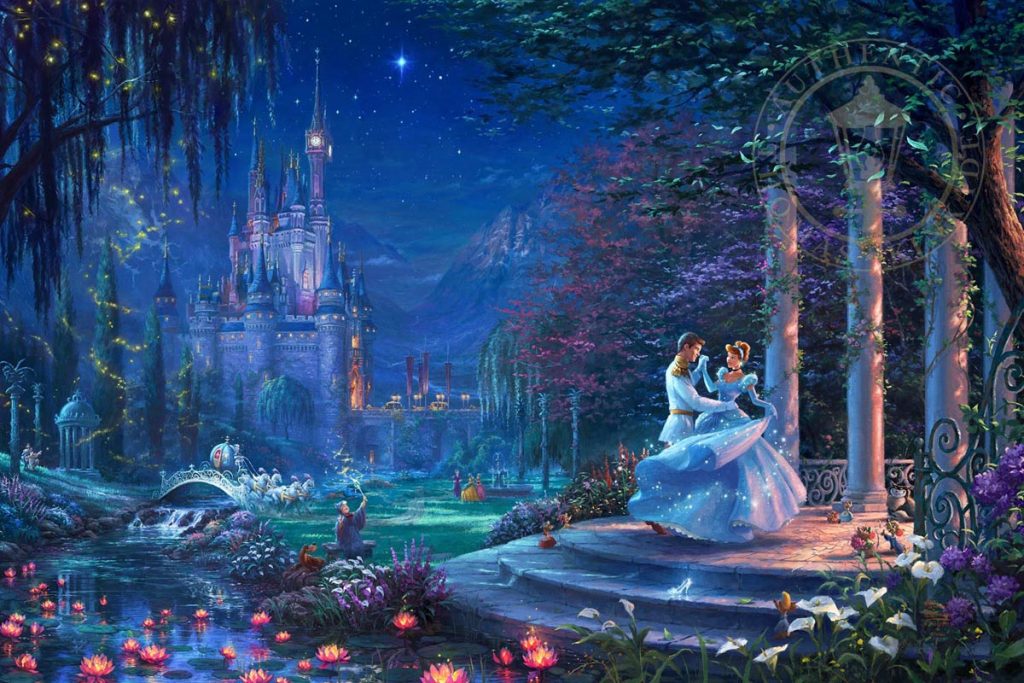 For wedding and anniversary gifts that will be enjoyed for years to come, stop by our galleries. Whether you are shopping for your fiancé, your spouse, a friend, or a family member, our paintings celebrate love and relationships in a way that lasts for generations. Express your support and congratulations to the lucky couple through the elegance and joy of art.
Wedding Gifts A Class Above The Rest
Are you looking for a gift for the bride and groom? Thomas Kinkade is synonymous with both taste and timelessness. Just some of our popular wedding and anniversary gifts include the following:
Cinderella Dancing In The Starlight captures the new couple's enchantment with one another as they dance under the moonlight oblivious to all else. Mickey And Minnie – Sweetheart Cove focuses the attention on this sweet, loving couple from our childhoods as they sneak away from the bustle of a full house for a tender moment alone. Paris, City Of Love, Venice, and Seaside Hideaway reflect romance in some of our favorite destinations around the world.
Anniversary Gifts To Celebrate
Our selection of canvas paintings come in a variety of sizes, framing options, and subjects to suit any tastes. Surprise your sweetheart with a painting of your hopes for your next big destination or a remembrance of your childhood hometown. Delight the Disney-loving couple with a beautiful representation of their favorite film. Whether it's a beautiful bouquet that will never be in danger of wilting or a collection of your recipient's favorite superhero movie characters, we have a Limited Edition canvas painting ready for you to give.
Fine Art For The Home
We all know a person or couple who seem to emit light and vibrancy. Maybe it's your significant other. Maybe it's your parents or your best friend. Just being around them lifts the spirits and calms the soul. Fine art does the same thing for the home. The right painting, in fact, can transform even the simplest of rooms into a place with a little more comfort and warmth. Whether it's their first piece of fine art or an addition to a growing collection, your gift of wall art complements the home like no other wedding or anniversary present.
Give A Gift That Grows & Goes With Them
We take great pride in knowing that a wedding or anniversary gift from our gallery will be a centerpiece that grows as a couple grows into a family. Limited Edition canvas paintings will move where they move and oftentimes pass on from one generation to the next. Stop by one of our galleries today to see what's new and choose a gift meant to endure as long as the precious relationship you are celebrating. We look forward to seeing you soon.