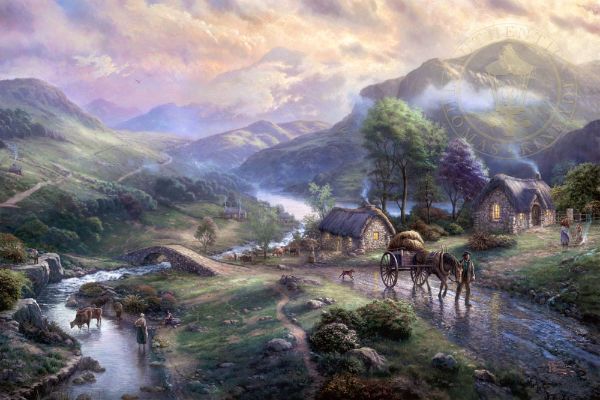 Thomas Kinkade often paid homage to the land of his ancestors in his fine art pieces. As such, collectors of Kinkade's work need to look no further than their local Thomas Kinkade art gallery to find some excellent examples of fine art that celebrates the Emerald Isle and, by extension, St. Patrick's Day. Here's a look at some of the most stunning St. Patrick's Day wall art you'll find at your local Thomas Kinkade galleries.
1. A Bustling Hamlet Surrounded By Mountains
Lush, green hills mingle with mist-filled skies and the promise of life's simple beauty in Thomas Kinkade's painting Emerald Valley. In this piece, he takes Ireland's already beautiful landscape and magnifies it in a way only he can. Details like a horse-drawn carriage, a babbling brook, and a cobblestone bridge perfectly capture the spirit of Ireland in this piece of St. Patrick's Day wall decor.
2. Blossoms Decorating A Simple Footbridge
Blossom Bridge was inspired by one of Kinkade's walks through the Irish countryside. This Irish bridge and the surrounding gem-like green of the landscape woke his beauty-loving sensibility, encouraging him to add bursts of brilliantly-colored flowers to the scene until Blossom Bridge was born. It's a stunning piece to add to any home art gallery.
3. Sunrise Over A Rustic Cottage
In Daybreak at Emerald Valley, two popular pieces from the Thomas Kinkade vault are honored: Emerald Valley and Emerald Isle Cottage. This piece of St. Patrick's Day art merges the most lovely aspects of each of those paintings into a stunning new composition. Details, like bursts of pink-infused clouds, sun-dappled paths, and a gently-flowing river, create a sense of peace and authenticity in this fine art painting.
4. A Small Cottage Glows Warmly In The Mist
This sweet piece from early on in Thomas Kinkade's career captures the charm of the Irish countryside under a sunbeam-filled sky. Light-filled windows, sprinkles of wildflowers, and delicate wooden fences invite the viewer in and encourage a bit of St. Patrick's Day holiday reflection. It's the perfect piece to enjoy while sitting with a cup of tea on a quiet spring afternoon.
Interested in St. Patrick's Day Wall Decor For Your Home?
For Thomas Kinkade, whose ancestors hailed from the Emerald Isle, the Irish countryside proved to be a powerful muse, as these four paintings demonstrate. If you're looking for some St. Patrick's Day wall art for your home, talk to an art consultant in one of our three Thomas Kinkade galleries in Monterey, Placerville, and Carmel, California.