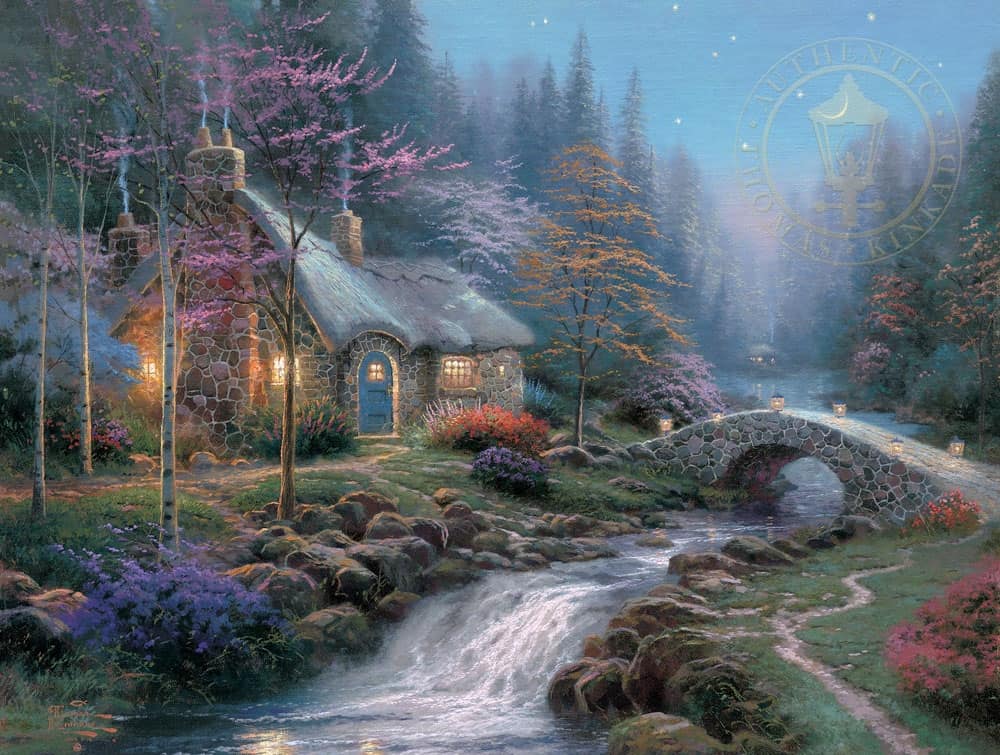 At the Thomas Kinkade Carmel, Monterey, and Placerville, California galleries, we offer beautiful Victorian themed wall art to will add elegance and class to any room. Whether you want to enhance a formal space or invite in a little more relaxed old-fashioned charm, we can help you find the right piece of canvas art to decorate with or gift.
What Evokes Victorian Style?
When people look for Victorian paintings, they often start with scenes set in the Victorian era that capture the fashion of the time. The eye might be drawn to paintings of manor houses, cottages, and gardens. While the architecture may not be specifically Victorian, these scenes are glazed in Old World charm heavily associated with the time.
Another, subtler element of Victorian style is Impressionism, which came to prominence in the latter half of the era. Our Plein Air paintings on canvas use many of the same techniques as the Impressionist masters. These pieces of contemporary art would feel equally at home in a modern family room or the 19th-century wing of a London or Paris art museum.
Where To Display Victorian-Themed Wall Decor
Our Victorian-themed paintings pair well with traditional interior design, like in a formal dining or sitting room. Our Impressionist-inspired works are more flexible since they fit in a broader range of spaces and decorating styles. They can add a burst of color and texture in an entryway, hallway, or home office.
The right piece can also work wonders in a bedroom. Nature scenes, like the gardens of a country estate, combine a relaxing view with old-fashioned sensibilities that help you or your guests feel like you're sleeping in timeless comfort.
Paintings In Our Collection
Our collection of artwork includes pieces that reflect both sides of the Victorian style. For realism, we have historically inspired scenes in Thomas Kinkade's signature style and landscapes that breathe Old World beauty. On the other side of the coin, we have a wide selection of Plein Air paintings as well.
Visit Our California Art Galleries
Shopping for Victorian-themed wall art for your home or office? Visit our California galleries in Monterey, Placerville, and Carmel today to see these beautiful paintings in person. Our friendly art consultants are on hand to answer your questions and assist with purchases.