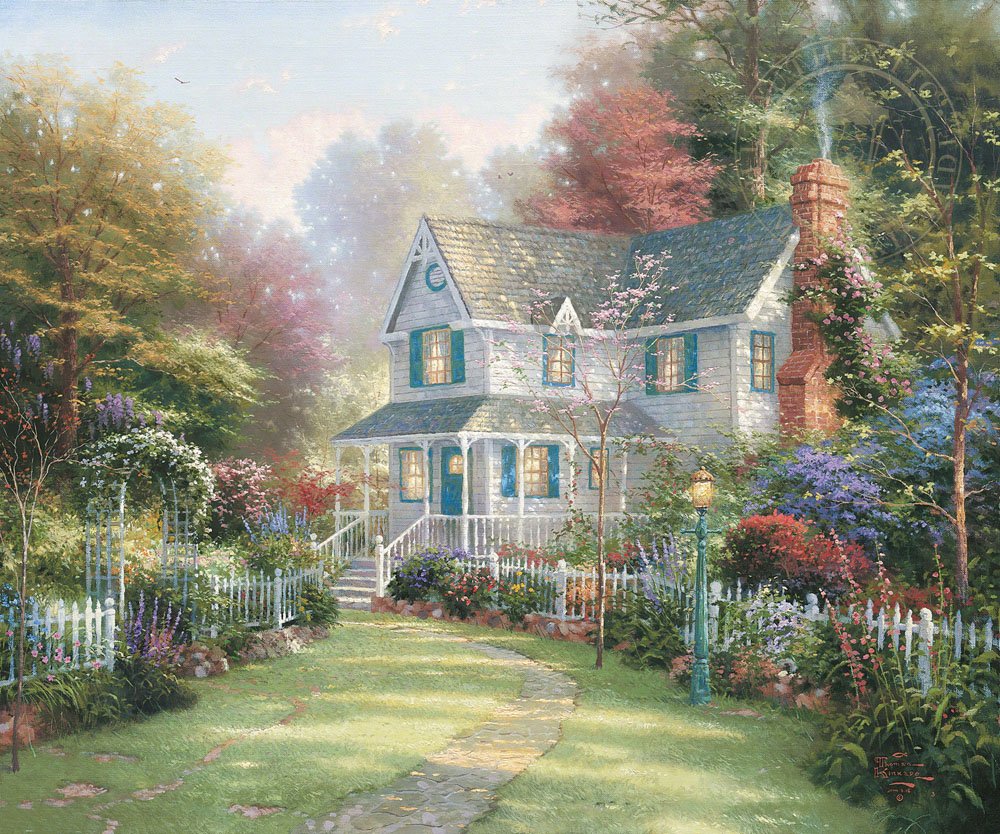 We invite you to experience the luxury of Victorian art and home decor with paintings on canvas of grand, intimate, and timeless Victorian-era homes, on display in the Thomas Kinkade art galleries of Carmel, Monterey, and Placerville, California.
If homes of many rooms, with oak walls and rich leather furniture, are your ideal, look no further than our many vibrant paintings of Victorian style homes. Or come gaze on modern homes and estates featuring hints Victorian decor.
Something is sure to grab your imagination and enrich whatever space you intend to decorate with these special reminders of the past.
Luxury In Every Brushstroke
Within each precise brushstroke and careful color choice, you can discover the love and mastery put into this Victorian home art on canvas. These traditional houses of their era were so memorable for their architecture. They are an array of decorative woodwork, turrets, steep rooftops, stained glass windows, and elaborate staircases. Choose from our selection of Victorian art and add taste to your office, a meeting room, or your home.
Just Right For The Holidays & Year Round
Bring the elegance, luxury, and majesty of Victorian style home decor to your own house, a guest house, or vacation home to offer that special touch only Thomas Kinkade canvas paintings give. Pieces like Christmas at Biltmore and Victorian Christmas bring out the inner child in the viewer, reminding you of the joy of the Christmas season.
With the snow-capped trees and mountains, warm and brightly lit rooms, and sunset just waiting for Santa's sleigh to cross through, mansion art canvases like these pull at your imagination. You may even wish you lived in one.
Peace Of The Season In Victorian Artwork
Colorful leaves, trees and the autumn season define more of our Victorian mansion artwork ready to warm your heart. You might almost reach for a coat while you recall childhood days of jumping in your grandparent's leaf piles right after they raked them on a chilly October day.
What about quiet nights illuminated by lamplight while stargazing? Lamplight Manor and Victorian Autumn will check those off your list. The level of Kinkade's artistry, the fall lighting, and warm hues, pastoral serenity almost seeps off the canvas.
Experience Victorian Art By Thomas Kinkade
If any of these paintings have captured your attention, stop by our Thomas Kinkade gallery closest to you in California to find the Victorian home art you've always wanted. Contact us today for more information about any of the paintings we've mentioned. Our art consultants look forward to helping you find the Thomas Kinkade painting that is perfect for you.