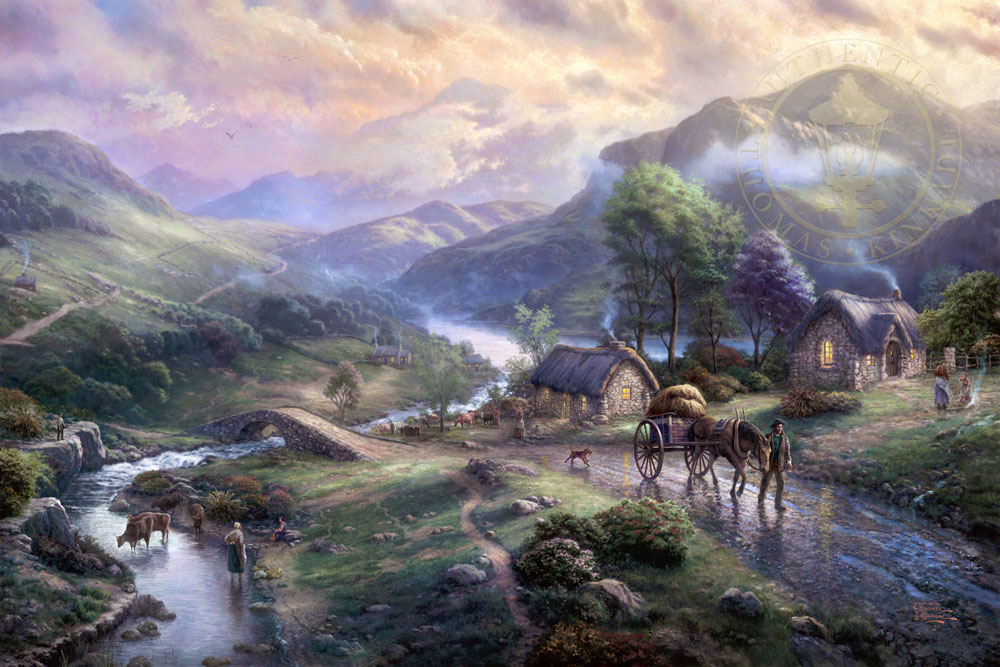 The most spectacular valley views can be found while perusing through the paintings in our galleries. Thomas Kinkade is well known for his Valley paintings and for the beautiful way he portrays the lighting in each one. When looking at one of these beautiful paintings you can feel the energy and life of the setting he was trying to describe.
Valley Paintings
Our valley scenes vary from the Yosemite Meadows to the Sunday Evening Sleigh Ride to everything in between. Thom has paintings featuring valleys in all seasons of the year, so whichever season is your favorite you are sure to find a beautiful scene that will speak to you.
Emerald Valley
A breathtaking view of a valley in Ireland with a timeless small village feel and a stream running through to add to the beauty.
West Rim, Yosemite
This view of the Sierra Nevada's has the gorgeous Bridalveil Falls and the incredible El Capitan in the same painting.
The Mountains Declare His Glory
A Miwok Indian village is in the valley of Yosemite. The majestic beauty of this valley will refuse to leave you.
Dusk In The Valley
This farm in the valley shares such a peaceful, tranquil moment at dusk.
The Valley of Peace
A majestic mountainscape with golden aspen at the base bring to light an unspoken peace.
Valley Chapel
So peaceful and serene with a beautiful brook and some wildlife to enjoy. You can almost feel the sacredness of the mountains here.
Visit Our Gallery For More Valley Paintings
So, now that you have a small introduction to some of the most beautiful valley paintings around bring your friends and family into one of our galleries. See the amazing valley art for yourself and take one home with you. There are so many options to enjoy, and each one has Thomas Kinkade's special touch of nature's light.