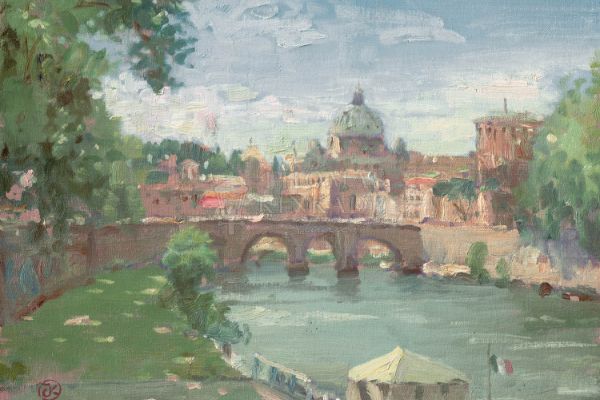 World travel art from Thomas Kinkade Carmel, Monterey & Placerville lets you escape to your favorite cityscape or café anytime, anywhere.
To evoke a classic style in your office or home, hang luminous paintings inspired by the Painter of Light and other artists available in our extensive collection.
Travel to these exotic places without leaving your home.
Rome
Paris
Venice
Barcelona
London
Here are a few paintings that can turn your dining room into a European café or transform your lobby into a dreamy Parisian skyline.
Roman Or Parisian Romance Anywhere
In Paris, City of Light, your eyes delight in a Parisian cityscape starring the Eiffel Tower, an iconic landmark clients will instantly recognize. It evokes a sense of excitement and adventure.
It pairs well with the muted elegance of Rome: View of St. Peters, full of warm, inviting colors and a striking image of St. Peter's Basilica, painted from across the Tiber River.
Cafes For Your Coffee Break
International art featuring cafes is perfect for your modern or traditional break room or conference room. For example, your employees can picture themselves sipping a cappuccino in a French Riviera Café and drinking in Venice at Café Venezia, with stunning views of Saint Mark's Basilica at sunset.
Alternatively, you can hang the dreamy Spanish Café, featuring the streets of Barcelona, in the conference room to inspire creativity among your team.
From Venice to London
Whether you prefer more intimate views, such as Rome: View of St. Peters, or expansive cityscapes, such as London, you can find beautiful works of art that reflect various architectural styles and textures. Here are just two of the many European-themed paintings inspired by Thomas Kinkade that you can hang in your office, home, or business:
Venice Canal: This painting captures the beauty and uniqueness of Venice, Italy, with its canals, bridges, and gondolas. You can hang it in your bedroom to create a relaxing and soothing mood, or in your office to add some charm and elegance.
London: This painting presents an iconic view of London, England, with famous landmarks such as Big Ben, Westminster Abbey, and the London Eye. It shows off your love of history, culture, modernity, and diversity. This larger-than-life painting can create a dramatic statement in your living area.
Sightseeing Art For Your Home or Business
Become a world traveler without leaving home when you hand tourist art in your home or business. Contact Thomas Kinkade Carmel, Monterey & Placerville to place your order and create unique style customers and family members will appreciate.