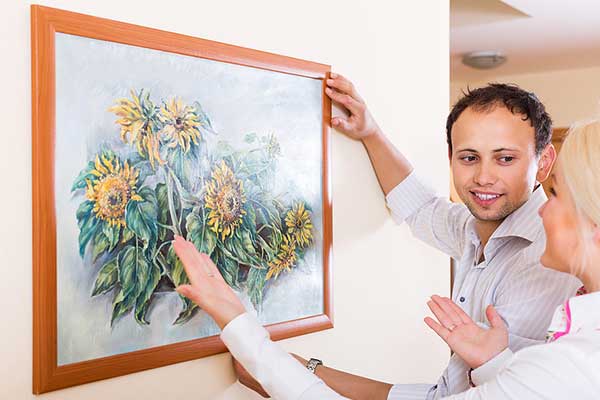 Find out how to light fine art with tips and tricks from the Thomas Kinkade galleries in California. Lighting fine art can be a challenge. How can you make your paintings, photographs, and sculpture look just as good at home or at the office as in the gallery?
We've put together a little advice to help you get the best views out of your collection.
Choose Bulbs Brighter Than Your Ambient Lights
Certain Types Of Lights Highlight Artwork Details
Frame With Fixtures In Mind
Improve Your CRI To Get The Best Color
Consult Your Gallery Professionals
Choose Bulbs Brighter Than Your Ambient Lights
We all have small accent pieces that add pops of interest throughout our favorite spaces, but lighting is key when it comes to featuring specific items from your art collection. A simple way to bring key fine art selections center stage is to choose brighter bulbs.
Take your ambient lighting down a notch and boost the brightness around your painting or sculpted work. You don't want to introduce too much heat or wash out the details. Just encourage attention and focus where you want it.
Certain Types Of Lights Highlight Artwork Details
When choosing which types of light fixtures to install, start with your art in mind. The texture in an oil painting and the detail in a sculpted figure may benefit from being lit from multiple angles. A glass-fronted watercolor painting and a glossy photograph should be lit from angles that reduce glare.
Ultimately, the parts of the artwork you want front and center, the mood you wish to create, and the composition of the piece will all be factors to consider when choosing lights.
Frame With Lighting In Mind
If you decide that picture lights will work better for a particular piece than ceiling-mounted bulbs, track lights, or wall washers, you'll want to make sure your frame is compatible. You want to make the most of the intimate, localized brightness of this option without worrying about damaging the frame or artwork.
Improve Your CRI To Get The Best Color
Should you choose cool or warm colored lights? You'll see a CRI or color rendering index percentage number when shopping for bulbs. The closer to 100% you can get, the more clear and vibrant your piece will appear. If staying true to the actual colors in your collection is important to you, pay close attention to CRI.
Consult Your Gallery Professionals
Lastly, when buying fine art for your home, don't forget to consult with the professionals at the gallery where you shop. These bastions of information are experts on the care, hanging, and lighting of all types of artwork. Where to buy fixtures, the best bulbs, advantageous lighting angles, and reliable hanging hardware don't have to be all guesswork.
Add To Your California Art Collection
If you're looking for new Limited Edition paintings to add to your collection, we invite you to shop with us at Thomas Kinkade Monterey, Placerville, and Carmel today. Our California art galleries are not only places to find beautiful, quality artwork, but to consult with a friendly, knowledgeable Art Consultant as well. We look forward to meeting you and becoming part of your collecting journey.