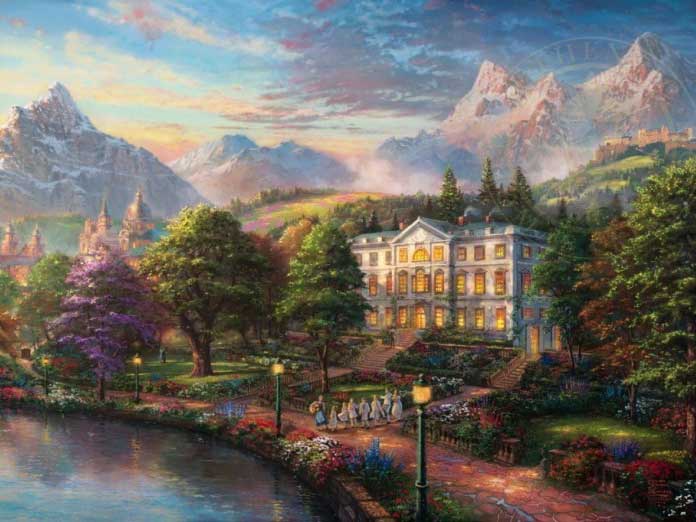 The Thomas Kinkade Company announces the immediate availability of the limited edition art image of THE SOUND OF MUSIC.  This new release is a historic new partnership between the Thomas Kinkade Studios and Rodgers and Hammerstein.
Thomas Kinkade loved to travel and paint and one of his favorite destinations was the Alps and it's magnificent snowcapped mountain ranges. John Hasting, Chief Executive Officer says, "Thom loved to hike with his family in the peaceful alpine pastures of the Alps, admiring their stunning mountain peaks, and one of their favorite films was The Sound of Music. We can't think of a better way to capture these fond family memories, and are very honored to have partnered with Rodgers and Hammerstein to bring this memory to life for all to enjoy." THE SOUND OF MUSIC is available in four sizes in limited release through authorized Thomas Kinkade Galleries.
The historic musical, The Sound of Music, was the final collaboration between the legendary team of Richard Rodgers and Oscar Hammerstein II – two men who also dared to dream, and ended up giving the world – and the Kinkade family – the most beloved musical of all time.
Thomas Kinkade, the Painter of Light™, emphasized simple pleasures and inspirational messages through his art and the branded products created from that art. From textiles, to collectibles, to music and books, The Thomas Kinkade Company strives to inspire and uplift people of all faiths and to bring peace and joy into their lives through the images Thom created. For additional information on Thomas Kinkade or to open your own Thomas Kinkade Gallery, visit www.thomaskinkade.com.