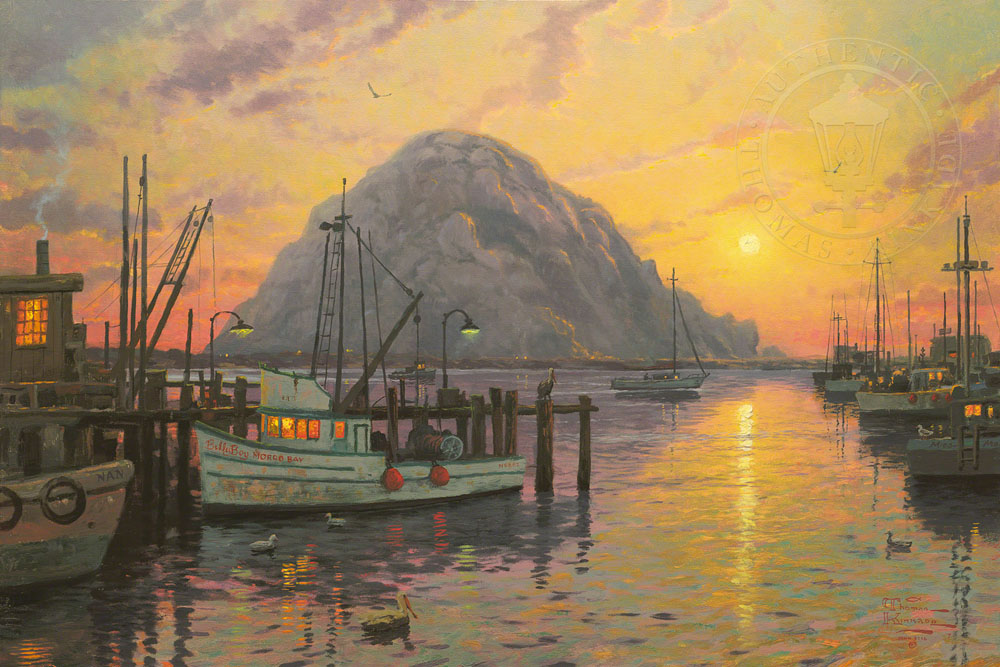 Enjoy a relaxing sunset any time of the day with sunset paintings from one of our galleries. You know us for the incredible amount of depth and light held within each painting we display. Now see how these characteristics bring sunsets to life in a variety of places around the world. We look forward to sharing with you the splendor sunsets from our collection.
Romantic Sunset Paintings
Whether you are trying to remind a loved one of a very special vacation, aiming to keep the mood of your honeymoon alive, or wanting to hint at exciting adventures to come, sunset paintings are a romantic gift to treasure. Unlike flowers, chocolates, or even a vacation for two, paintings of sunsets on canvas last for years to come and can light up any room. Delight someone special with any of the following sunset canvas art in our gallery:
Sunsets For All Seasons
As depicted in Footprints in the Sand, for many people nothing beats a summer sunset over the water. Maybe your ideal sunset occurred on a crisp winter day after celebrating the holidays as in Christmas Tree Cottage or Symbols of Freedom. For a beautiful sunset canvas painting that reminds you of home, watch as a cloudy night serenely comes to an end with Sunset Over Memphis.
A Beautiful Addition To Any Space
The benefit of bringing art that depicts sunsets into your home or office is the light and life they can bring to the room. Our soul-stirring paintings of sunsets behind the Vatican and within the city of Jerusalem are ideal for your spiritual spaces. Exotic locations like Greece, Italy, and France can bring touches of elegance to living and reception areas. The calm of cottage and farm sunset paintings makes them great housewarming gifts.
Transport Yourself Without Leaving Your Home
Looking for the perfect piece of art for a gift or very particular room in your home? With a sunset painting, you can watch as the day fades into a time of rest or as the nightlife just begins. Our gallery staff invites you to come by for a tour of the sunsets on canvas we have on display. We look forward to helping you today.