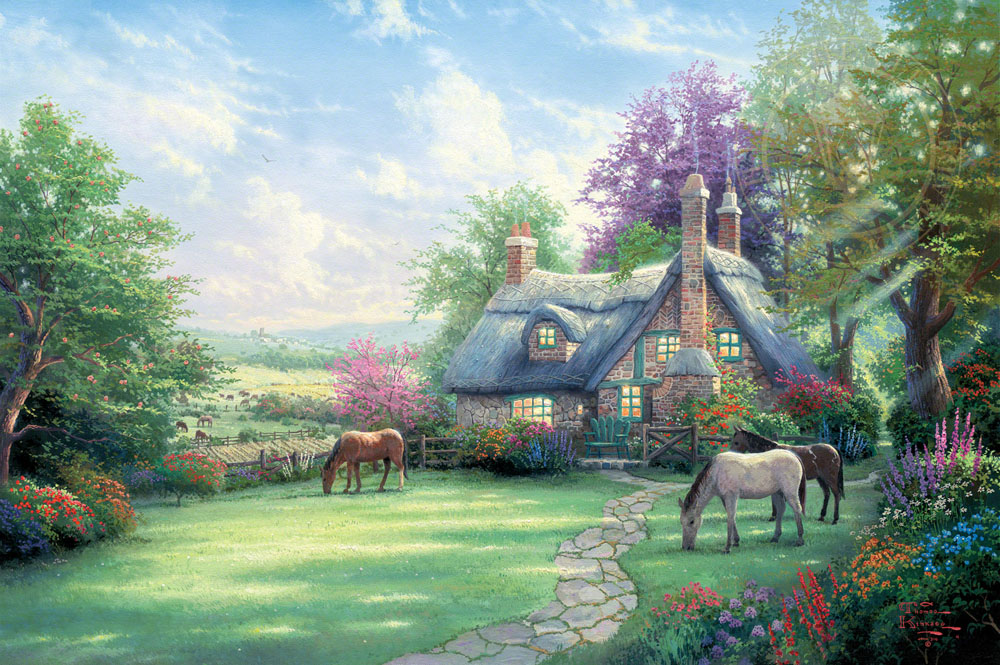 Bring more bright, warm, relaxing imagery into your home or office with summer themed art from Thomas Kinkade.
We have elegant wall art to suit your distinctive tastes and style. Looking for a gift to brighten someone's day? Come see how a walk through our collection of summer art lifts your mood.
Those Bright Balmy Days & Long Nights
Our beautiful canvas paintings of summer can transform the mood of your reception areas or living spaces into one of joyful reflection. See how the light playing off of crisp waves or glowing from within a sweet cottage can immediately bring the warmth of the season into your surroundings. Welcome your house guests, treat that newlywed couple in your life, or calm your waiting clients with any of the following summer art on canvas:
From Resorts To Summer Retreats
With vibrant scenes of nature, exotic destinations, and even a day at the ballpark, we have the perfect painting of summer for you. Summer's Heritage and The Old Fishin' Hole celebrate simple summers gone by at work and play outdoors. Spend some time meditating on Portofino or Island Afternoon, Greece, and be transported to Italy or the Mediterranean without having to pack a bag. Summer-themed art whisks you away just like that.
Find Summer Themed Art Right Here
No matter the weather outdoors, art inspired by the summer allows time spent indoors to be a little more light and sunny. Stop by and see us in one of our galleries today for the perfect gift, piece of wall art, or business decor. Our friendly Art Consultants look forward to showing you around our heartwarming collection of summer paintings.