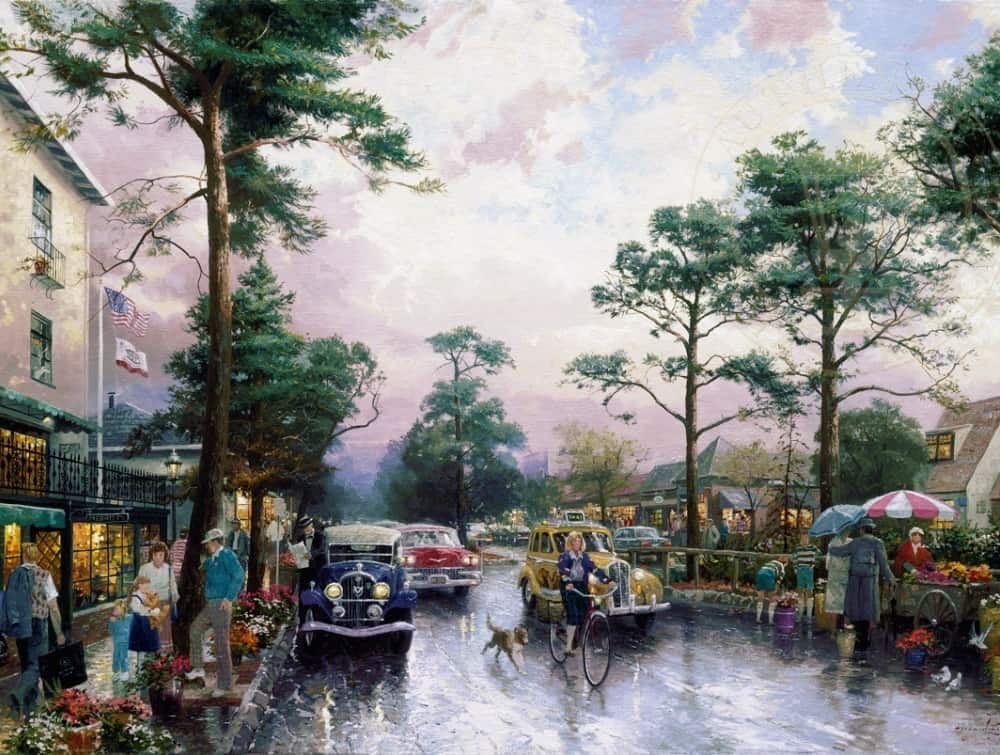 Find summer art full of California cool at our Thomas Kinkade art galleries in Carmel, Monterey, and Placerville. Explore the variety and beauty of our California summer paintings. Our staff will help you select the perfect piece for your space.
Down By The Sea
The California coastline is an ideal place to spend a summer day. With paintings from one of our art galleries, you can enjoy spectacular west coast seascapes from the comfort of your own home or office. The charming village of Capitola, located just north of Monterey, offers such stunning sea vistas.
In Capitola Sunset, the gold and pink hues of sunset cast twilight magic over a wooden pier and restaurant. In Capitola Villiage, colorful homes and shops perch on the hill while the wooden pier stretches into the ocean.
You might also enjoy these California seaside paintings:
Monterey Bay Charm
Monterey offers splendid sea views, quaint streets, and beautiful sunsets. It's no wonder it's such a popular destination for artists. In Sunset on Monterey Bay, a rippling sea reflects the golden colors of the setting sun. You can almost feel the gentle ocean breeze and hear crashing waves against the colorful wharf buildings in the painting, A View from Cannery Row.
Boats dot the seascape, ready for a summer ride in the painting, Monterey Marina. When you visit one of our California art galleries, you'll see the beauty of our Monterey area paintings up close.
Carmel Art
Thomas Kinkade masterfully captured the beautiful settings of Carmel-by-the-Sea in his artwork. In Rainy Day in Carmel, cars line the rain-drizzled street while visitors take refuge inside charming shops and cafes. In Carmel, Sunset on Ocean Avenue, visitors leisurely stroll in and out of the stores, while vintage cars wait in the glow of sunset. These paintings would make amazing additions to your summer decor
Summer Paintings For Your Home
Usher in the summer season with California paintings for your home or office. Bask in the warm summer sun on a sandy beach, enjoy the colorful sprays of sunset, or visit charming California shops and cafes through a summer painting from our Thomas Kinkade art gallery.
California Art At Thomas Kinkade
Visit one of our Thomas Kinkade art galleries in Monterey, Carmel, or Placerville, and meet with one of our friendly art consultants. They will help you select California art that will look stunning in your space, help you choose the right framing, and give you tips on how to hang and showcase your new piece. A piece of California cool is waiting for your summer art collection.