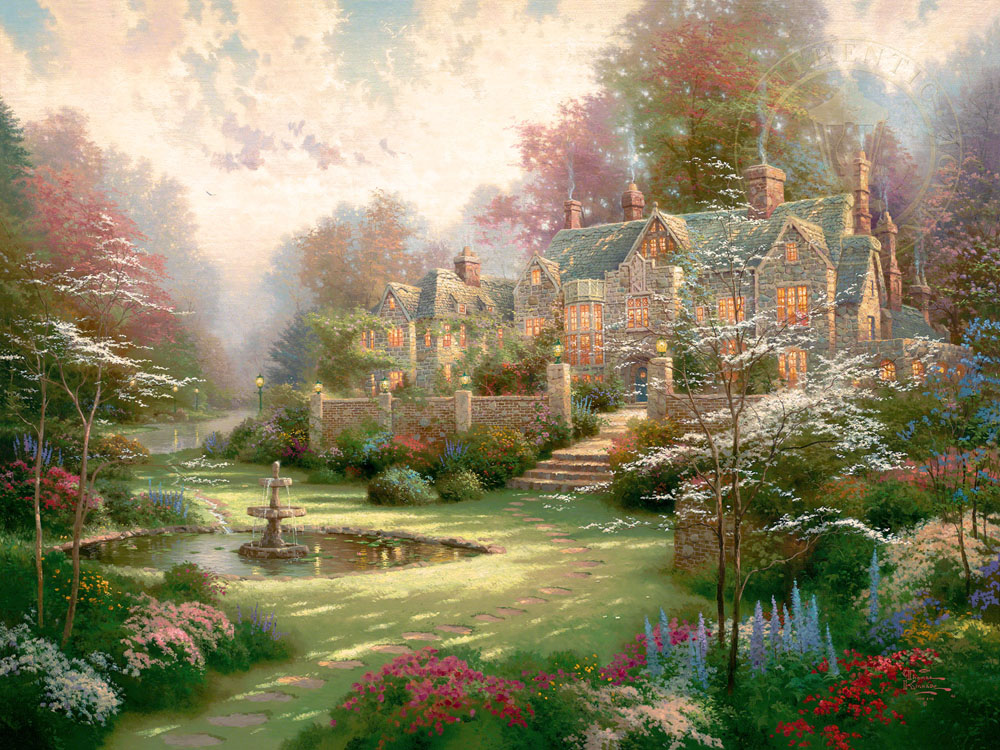 Celebrate the rebirth of life with a beautiful Spring painting from our collection in our galleries. Gifting yourself or a loved one with a memorable piece by famed painter and Master of Light, Thomas Kinkade, will be certain to bestow joy for years to come.
The Joy Of Spring
Paintings of Spring summon forth feelings of celebration and wonder as the world bursts into life on the canvas right before your eyes. With masterful strokes, Thomas Kinkade captures the brilliance and revelry in nature's most stunning displays of seasonal glory. Some of Thomas Kinkade's most popular Spring scenes include:
Spring Gate
A stately wrought iron gate intrigues us as it suggests more resplendent treasures and lavish blossoms are within reach just further down the country lane.
Beyond Spring Gate
Just past the gate, a charming stone bridge and elegant manor amidst colorful blooms beckon you closer with the promise of paradise and peace.
Spring Meadows
Full of movement and light, this impressionistic work of art captures the Italian countryside as it moves into Spring.
Spring In The Alps
A reminder that like Spring, new life emerges everywhere. Enjoy the quiet dignity of this Alpine scene as the earth settles silently into a new season.
The Blessings Of Spring
This piece illustrates the beauty and subtle magic of Spring as it brings this Victorian manor to life.
Springtime With Thomas Kinkade
You can discover Spring anytime of the year in our galleries We invite you to experience the beauty of these paintings up close and in person. Feel free to arrange a personal showing or stop by onf of our galleries whenever the fancy strikes. Our team of art consultants would love to introduce you to these inspiring works of art and answer any questions about finding the perfect painting.