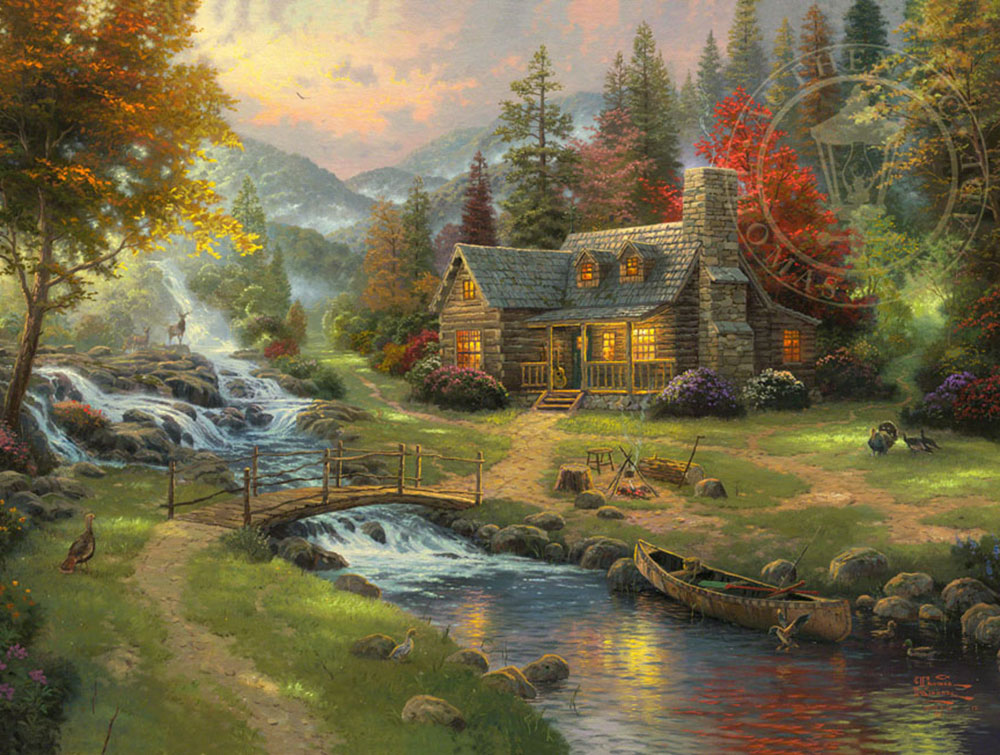 As the temperature rises outdoors, why not add a little warmth inside that won't cause you to break a sweat with romantic summer-themed art from Thomas Kinkade Carmel, Monterey & Placerville. Our California galleries have just the right painting to brighten your space for the long balmy nights ahead.
Romantic Summer Wall Art
Celebrate your anniversary in a new and unique way by decorating for a romantic evening in. Can't get away this summer? Yes, you can. Let one of our romantic summer paintings sweep you away to destinations near and dear to your heart no matter how far away they may actually lie on the map. Our friendly art consultants can help you choose just the right frame and lighting setup to take your breath and imagination away.
Gardens, Gazebos & Sunsets You'll Love
Whether it's a lush flowering garden path with a gate beckoning you forth to adventure, a hidden gazebo that seems to have been placed just for you and your honey, or the sun setting over the cabin, cottage, or beach scene of your dreams, we have romantic summer artwork to suit both your unique space and taste. Here are just a few examples of these Limited Edition paintings on canvas:
Let A Little Love Blossom In Your Living Room
Romantic summer art is all about mood. Venetian Café is the perfect backdrop for a couples date night. That rich Italian sunset will warm your living or dining room right up. Don't forget the wine. Mountain Paradise will turn your sitting room at home into a relaxing room at the cabin in the woods in no time. Is that a waterfall you hear?
Your California Source For Summer Themed Art
Bring the flirtatiousness, the color, and the vibe of summer into your home with romantic summer-themed art from Thomas Kinkade Carmel, Monterey & Placerville. Celebrate your special someone with a Limited Edition Thomas Kinkade painting that will remind them of summer vacations you've taken together or the many you hope to take together in the years to come. We look forward to seeing you in our California art galleries today.